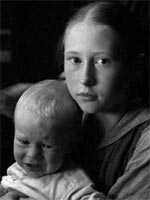 Fear not, you haven't entered a very somber Tardis and woken up in December 2009. The BBC World Cinema Award is a small but creditable gong dished out annually to honor the best in foreign-language film — but due to a significant change in the show's calendar, this year's award effectively spanned the last two years of UK releases.
Hence the rather stale-sounding list of nominees, but congratulations anyway to Michael Haneke's 2009 Cannes champ "The White Ribbon," which triumphed over "I Am Love," "A Prophet," "Let the Right One In" and "Waltz With Bashir." (Note the absence of a certain pair of recent Oscar winners for Best Foreign Language Film.) Previous winners of the award include "4 Months, 3 Weeks and 2 Days," "Pan's Labyrinth" and "Downfall."
The award was determined by a jury headed by Oscar-winning screenwriter and playwright Christopher Hampton, and presented in London last week. At the same time, Bernardo Bertolucci was honored with a lifetime achievement award. Anyway, nothing to stop the presses for, but thought you'd like to know.
[Photo: Sony Pictures Classics]