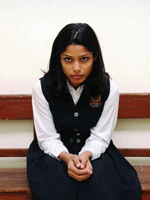 Well, it makes sense for The Weinstein Company to tidy up its slate a bit.  "Blue Valentine," "Nowhere Boy" and big dog "The King's Speech" are enough to play with, and there is also "The Company Men," which has been screening lately.
So we bid farewell to Julian Schnabel's "Miral," which was looking like an awards season also-ran anyway, given the response out of Venice and Toronto.  From the Lido, Guy wrote that "Schnabel's stated passion for the material is scarcely evident in his screen treatment thereof" and that the film is "enlightening neither as emotional essay nor as straight-up history lecture…[it] seemingly lands shy of every imaginable target audience: it's too dry for the middlebrow awards set that might otherwise thrill to its superficially good intentions, too didactic for the highbrow intelligentsia that turned out for the director's previous outings, and too dull for just about everybody."
David Poland originally Tweeted the news last night.  I've been waiting all morning for an informed source to verify.  Crazy, I know, but anyway, with said verification, chalk it up.  The film will be released in March of next year.
[Photo: The Weinstein Company]