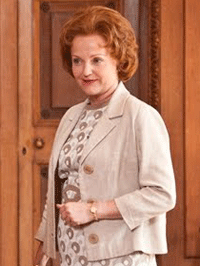 A number of people wanted Anne and I to discuss the seemingly thin Best Supporting Actress category on the podcast Friday, but we didn't get to it. So it seemed an opportune time to dedicate this space to the discussion.
One should keep in mind that the race is still in its early days. This time last year we didn't even know "Crazy Heart" would be in the mix, and any number of things can change. But while I have been saying for a while now that the supporting actress field is week, it does seem to be taking shape as of late.
There is no hard and fast frontrunner in the field right now. If Lesley Manville's "Another Year" campaign were to switch gears, that would be a different story, but the only contender that feels right at the moment is Miranda Richardson as the fiery Barbara Castle in the Brit comedy "Made in Dagenham."
On the next tier, I feel pretty good about Dianne Wiest's chances in "Rabbit Hole," where the three-time nominee (and two-time winner) stars as a concerned but affable mother to Nicole Kidman's grief-stricken housewife. Meanwhile, Helena Bonham Carter could well ride the coattails of "The King's Speech" to a nomination for the comic relief and emotional support she maintains throughout the film.
Beyond that, it's still up for interpretation. Sony Classics has planted an early flag on behalf of "Animal Kingdom" star Jacki Weaver that could pay off. It's imperative that people see the film so being first out of the gate with screeners is good insurance. Meanwhile, there are the ladies of David O. Russell's "The Fighter," Melissa Leo and Amy Adams. The studio is high on Leo's chances in the showier role of mother to Mark Wahlberg and Christian Bale's Boston brutes, but all involved would love to see both find room.
Speaking of which, if you'll allow a brief tangent, you might recall a recent Oscar Talk debate where Anne Thompson contended that Russell's film had pretty much a snowball's chance in hell at getting any Academy recognition. The reasoning seems sound enough. Russell is a bit of a hot-head director with no shortage of enemies.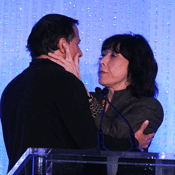 But one of them isn't Lily Tomlin, you might be surprised to know. The two had a particularly prickly relationship on the set of "I Heart Huckabees," which bubbled to the surface when videos of their fights made it to the internet a few years back. But the two are actually close friends these days.
Tomlin was the emcee of Variety's Power of Women luncheon two weeks ago and Russell was in attendance to present an honor to Adams (who stars as girlfriend to Wahlberg's Mickey Ward in "The Fighter"). Tomlin introduced Russell as "my good friend, my favorite director" and added that the two "are so hip that they've written rap songs about us."
They embraced on stage and Russell thanked her, saying, "Lily's like family and is indeed one of the most powerful women I know, which I found out the hard way." So, no hard feelings there. Could it be that these things are overplayed because they're so juicy? Just throwing it out there.
Back to supporting actresses, I'm told Lionsgate is most excited about Kimberly Elise and Thandie Newton in Tyler Perry's "For Colored Girls." I won't see the film for few weeks but the other ladies of the cast aren't as likely. And also sporting two possibilities is "Nowhere Boy," which saw Kristen Scott Thomas and Anne-Marie Duff recognized by BAFTA last year. The HFPA loved the film, I'm told, and it will be a comedy/musical player at the Golden Globes, so perhaps that momentum could bring Thomas and Duff back into the conversation.
After that, it starts to get dreary. Barbara Hershey is a unique possibility for "Black Swan" (more so than the Venice-honored Mila Kunis), but one wonders how the Academy will receive that film on the whole. Speaking of Venice, Sofia Coppola's Golden Lion winner "Somewhere" may have Elle Fanning in the mix.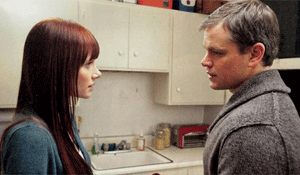 Staying with child actresses, I would continue looking to the possibility of "True Grit"'s Hailee Steinfeld being pushed in this category, despite the fact that she is the lead of the piece. But there's one more young lady worth considering: Saoirse Ronan in Peter Weir's "The Way Back," the latest contender to join the mix. The former nominee ("Atonement") offers a lot of emotional context in the film, especially in later scenes.
I suppose it's worth mentioning Rebecca Hall in the AMPAS-adored "The Town" and Marion Cotillard in the summer blockbuster "Inception." I quite liked what Keira Knightley had to offer in "Never Let Me Go" and it's a shame Bryce Dallas Howard didn't have a few more scenes to chew on in "Hereafter," because she's easily the best part of the film. But the list starts to run out of steam after that.
The point is, maybe the category is taking shape after all, just not in the form we would have expected. And that's fine. Not having an assured front-running contender makes it all the more exciting, right? So let's watch it unfold and appreciate what we have.
The Contenders section has been updated throughout the week and the sidebar reflects my latest predictions.  (Interesting to note MCN's Gurus o' Gold have picked the same 10 supporting actors I've had on up for at least a month.  I hope that doesn't mean a consensus is forming this early.)