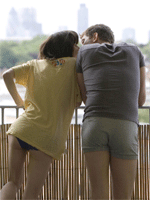 My attention was drawn to this article last week, but since the London Film Festival kicks off this week (and Mike Leigh's "Another Year" will be competing for top honors there), now seems an appropriate time to link to it. Picking up on the role England's capital city has played in a number of Leigh's films — including his latest — the Wall Street Journal quotes the Salford-born director on his self-proclaimed status as an "ethnic London filmmaker":
It's precisely the city's specificity that engenders the grittiness of Leigh's "Naked," for example, or the quiet melancholy of "Another Year." "By definition, London is a kind of place that means so many things," Leigh said. "I've lived in London exactly 50 years. When you reflect on your life in a slab of 50 years…I adore London. I think it's a wonderful, glorious city. That does inform the stuff that you're talking about."
They go on to draw a comparison between Leigh's London-set films and the recent Blighty-based efforts of Woody Allen, chief among them the recent "You Will Meet a Tall Dark Stranger," concluding that the city feels organic to the former in a way that Allen can't hope to match. (Having said that, they don't mention that an Allen film like "Match Point" wasn't written with a London setting in mind.)
It's true that films like "Another Year" and "Happy-Go-Lucky" (the latter set and filmed largely in my own corner of North London) pick up on subtle but astringent tensions of class and culture within London society, as well as between the city's inhabitants and its outsiders, that may not be as clearly defined to non-UK viewers. (It's part of the reason, I suspect, why his films tend to provoke more divided reactions at home than in the US.)
"Naked," for example, has long been my favorite Leigh film, but since becoming a Londoner myself, the film has revealed an even richer, more pointed seam of social critique. Indeed, between "Naked" and Leigh's last two features in particular, it seems to me the director has crafted something of a triptych about the obstacles posed by this sprawling, chequered city to communication and companionship.
Incidentally, the London Film Festival (and my daily round-up reports from the fest) will begin on Wednesday.