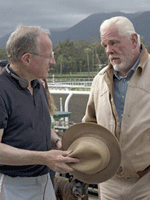 Doesn't it feel like television is moving into a new golden age?  Everything from hour dramas to half-hour comedies is as impressive as ever and top filmmaking talent continues to make the jump.  We've already seen Martin Scorsese's impact with "Boardwalk Empire" this year and if there's one thing I'm looking forward to on the small screen, it's the upcoming Michael Mann/David Milch horse race drama "Luck" on, where else, HBO.
This is a powerhouse partnership by anyone's measure, and that's before you even get to the talent in front of the camera (Dustin Hoffman and Nick Nolte will star).  Both of these guys, Mann and Milch, are alphas, to quote one actor I talked to about the show at a festival last year (who has worked with both and who shall remain nameless).  But they're also creative beasts.
Geoff Boucher wrote a piece for this weekend's LA Times and, of course, touches on that little nugget of intrigue.  He gets quotes from Hoffman, Mann and Milch on the matter, as well as HBO programming president Michael Lombardo (misidentified as David Lombardo).
Says Hoffman:
The sharing of the paintbrush is always a tenuous thing…In film, the writers hand over the paintbrush, but in television the directors have less power. But with this one, Mann is more active because he's not just a one-time director, he is the [executive] producer of the show too.
And Milch, diplomatically:
There are challenges in every collaboration, and a challenge is an opportunity in disguise.
Ahere's also the return of Mann to the big screen, which Boucher gets to as well.  The director says Milch's pilot is one of the best scripts he's ever read.  High praise.  The rest of the piece is something of a Mann profile, with intriguing quotes from Christian Bale and Christopher Nolan.  Read the full article over at the LA Times.
I cannot wait for this show.  It premieres next year.
(Side note: Boucher mentions that Mann records his own interviews.  Indeed, when I spoke to the director at his office four years ago for a New York Times profile, he pulled out his own recorder and set it on the desk right after I did the same.  Intimidating cat.)
[Photo: Home Box Office]