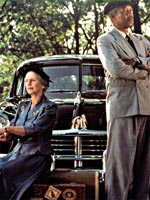 Its installments come all too infrequently these days, but Best Pictures From The Outside In — a collaborative project between The Film Experience's Nathaniel Rogers and his learned pals — is one of the best sources of Oscar discussion and analysis on the web.
That's not only because it provides ample opportunity for kvetching over the Academy's past mistakes (our favorite sport, let's face it), but because its system of pairing up Best Picture champs from opposite ends of history often reveals unexpected patterns of progression (or not, in some cases) among the voters.
Their latest episode is a doozy on both counts, covering as it does one of the most roundly jeered winners in the category's history, 1989's thoroughly vanilla race-relations drama "Driving Miss Daisy." (By contrast, the other featured champ, 1946's "The Best Years of Our Lives," holds up to this day.)
I love participant Mike Phillips's still-simmering fury over the semi-surprise 1989 result (remember, "Daisy" is the last film to take Best Picture without even a Best Director nomination), which incorporates an unexpected defense of a similarly ill-received winner.
[Driving Miss Daisy's] ending–"You're my best friend, Hoke"–is one of the few times you'll ever see me moved to praise the recent Best Picture winner Crash, because I sort of think Crash knew how ridiculous it was when Sandra Bullock says the same thing to her beleaguered housekeeper. But here in Miss Daisyland, there's no such thing as self-examination. Meanwhile, out in the world, while the Academy was praising carefully crafted, Old Left films about gradual social change, Spike Lee was tossing garbage cans through windows trying to get people's attention. The Academy noticed, of course –the white dude in Do the Right Thing got a Supporting Actor nomination. This film, and this window into the Academy's soul, both make me sick.
As I wrote in a Long Shot column last year, that pointed sidelining of "Do the Right Thing" was a major issue at the 1989 awards, prompting a vocal onstage protest from none other than Kim Basinger. (It's funny how the real upset victim of the night, Oliver Stone's "Born on the Fourth of July," scarcely gets mentioned in the discussion anymore.) Given that it's been exactly two decades since that Oscar ceremony — during which time the template for a Best Picture winner has shifted somewhat, and the number of black Oscar winners has more than trebled — it does make me wonder how much the Academy has changed.
Would "Precious" have been a Best Picture nominee in 1989? Is "The Blind Side" just the 21st-century answer to "Driving Miss Daisy?" And if "Daisy" and "Do the Right Thing" were released today, would the blander film still be the only one nominated? And am I dating myself terribly when I say that's the first Oscar race I remember being aware of?
Enjoy the rest (and don't worry, "Daisy" fans, it's not all slings and arrows for the film) here.