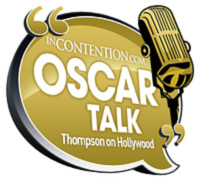 Welcome to Oscar Talk.
In case you're new to the site and/or the podcast, Oscar Talk is a weekly kudocast, your one-stop awards chat shop between yours truly and Anne Thompson of Thompson on Hollywood. The podcast is weekly, every Friday throughout the season, charting the ups and downs of contenders along the way. Plenty of things change en route to Oscar's stage and we're here to address it all as it unfolds.
Can you believe it's already October? Next month every film will have screened and before long we'll be reporting National Board of Review winners. Contenders are beginning to hit theaters as we move into the fall, so let's see what's on the docket today…
• Disney's "Secretariat" opens this weekend, met with middling reviews that still indicate a pass on the critics' part. We talk briefly about whether Oscar potential has changed.
• Peter Weir's "The Way Back" has officially entered the race with a one-week qualifying run in December. Having seen the film, I offer my perspective on awards possibilities and shower some more praise.
• With "Nowhere Boy" also opening this weekend, we're reminded of a BAFTA fave that could re-insert itself in the conversation this year. Anne has seen it, I haven't, so we defer to her thoughts here.
• We also talk about Clint Eastwood's "Hereafter," which hits theaters next weekend. Though we both find (entirely different) things to praise, we both agree it'll be a tough road to Oscar.
• There has been a lot of moving and shaking at indieWIRE lately, with Todd McCarthy heading over to The Hollywood Reporter and Anne taking on the role of editor-at-large. Some quick inside baseball on the matter.
• Finally, we took you up on your suggestion and added a listener questions element to the podcast. We answer as many as we can without going too long, making for, I think, a great first installment. Topics include the awards potential of "Shutter Island," the Best Picture push for "Toy Story 3" and our opinions on the Best Picture winners of the last decade.
Have a listen to the new podcast below. If the file cuts off for you at any time, remember you can click the download link to save it directly or play from the source. And as always, remember to subscribe to Oscar Talk via iTunes here.
[display_podcast]