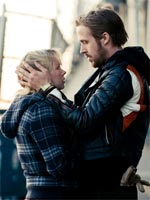 As if Derek Cianfrance's moving, bruising marital drama "Blue Valentine" — with its Oscar-caliber performances by Ryan Gosling and Michelle Williams — didn't face enough obstacles heading into the awards season, what with its bleak subject matter and perilously late release date, the MPAA has just thrown it an extra curveball. In their wisdom, the sensitive souls on the ratings board have ludicrously given the film an NC-17 rating: the movie-censorship equivalent of a scarlet letter, theoretically reserved for films that feature extreme, boundary-pushing violence or sexual content.
It's been almost five months since I saw "Blue Valentine," so my memory may be a little hazy, but I must profess to being absolutely stumped as to what content in the film could have provoked this decision. It's a harsh, adult-oriented drama, make no mistake, but it doesn't even feature explicit nudity, much less any beyond-the-pale activity. Deadline's Mike Fleming claims this was the scene that supposedly crossed the line [mild spoiler alert]:
I'm told the rating was given for a scene in which the characters played by Gosling and Williams try to save their crumbling marriage by spending a night away in a hotel. They get drunk and their problems intensify when he wants to have sex and she doesn't, but will to get him off her back.
(Sasha Stone, meanwhile, disagrees, speculating that it's a frank (but still tasteful) oral sex scene that did the trick.) I recall the scene Fleming refers to, and it's an arresting one — but that's because of the conflicted emotions at play, not because of any tangibly subversive elements. Moreover, the film has played Sundance, Cannes and Toronto without provoking a whisper of controversy or dissent from critics or audiences. If scenes of uncomfortable intimacy warrant an NC-17 rating these days, the board may want to reconsider the entire oeuvres of Ingmar Bergman or John Cassavetes. (Wait, should I be giving them ideas?)
"Blue Valentine" is a film I'm sure smart, mature teenagers can handle, but the restriction of access isn't the key issue here: for many adult viewers, rightly or wrongly, the NC-17 sign has a stigma of moral irresponsibility, and that's enough to torpedo both a film's commercial and awards prospects. (The last major prestige picture to be branded with the rating was Ang Lee's far more explicit — but still undeserving — erotic drama "Lust, Caution" in 2007.)
The Weinstein Company should, and surely will, appeal this baffling decision with characteristic zeal. The scenes in question are too crucial to cut in the interests of receiving an R rating — not that any film should have to cut material merely for the purpose of appeasing a small-minded group of red tape-wielding censors. At the very least, "Blue Valentine" will gain some sympathetic attention from this matter, but it's hardly what a film this strong wants to be known for.
[Photo: The Weinstein Company]