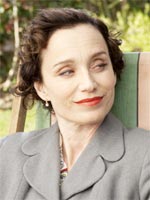 Hey, did you know I'm something of a Kristin Scott Thomas fan? If you didn't, chances are you only just met me. Welcome. The precis version is that I think she's one of the few great contemporary actresses currently working on career-peak form, and in two languages to boot. The non-precis version — well, dig around.
It's been nearly 14 years since her lone Oscar nomination for "The English Patient"; she's more than due for her second, and while she narrowly missed it in 2008 for her French-speaking turn in "I've Loved You So Long," I'm wondering if this year's wide-open Best Supporting Actress race might prove more conducive.
I'm referring, of course, to her expertly brittle but moving performance as John Lennon's aunt (and guardian) Mimi Smith in Sam Taylor Wood's biopic "Nowhere Boy," which opens Stateside tomorrow. US moviegoers are getting quite a fix of Scott Thomas lately. Last week, French romantic thriller "Leaving" — showcasing even more impressive work by the actress as a neglected housewife in an updated "Madame Bovary"-style melodrama — hit theaters, drawing mixed reviews but further critical huzzahs for her performance.
It feels odd for me to be bringing up these films again nearly a full year after I reviewed both of them at the London Film Festival, but such are the foibles of international distribution. (To put things in perspective, I'll be seeing Scott Thomas's next film, French psychological thriller "In Your Hands," at the LFF later this month.) "Nowhere Boy" is particularly old news to us Brits: the film was released here back in December, earning BAFTA nominations for Scott Thomas and her co-star Anne-Marie Duff.
Presumably hoping for a similar strike with the American Academy, The Weinstein Company has savvily waited until now to ride the next awards-season wave. The film itself is surely too polite and low-temperature to make much headway with voters, but something tells me that, should she get a typically smart Weinstein campaign, Scott Thomas could be a dark horse to watch in a scattered race that has numerous hopefuls but few sure-shot nominees.
To recap, "Nowhere Boy" offers a scene-stealing turn from a respected, long-serving actress in a stoic-but-supportive role as a true-life figure (oh, and with a cut-glass English accent) — just count the number of Academy boxes ticked in that sentence, if voters are made aware of the movie. Team Harvey will obviously be pushing hard for fellow double-barrelled Brit Helena Bonham-Carter in the same category, but here's hoping they find room for both (and perhaps Duff, too) on the campaign wagon.
Just to make me sound a little less like a solitary crazed evangelist, here's Salon critic Andrew O'Hehir on why Oscar (and everyone else) should bow to the actress:
["Leaving" has] got something none of those movies about middle-aged women finding love has: the amazing Kristin Scott Thomas, who keeps appearing in roles that seem bound to win her the Oscar she's deserved for so long, but inevitably don't … Scott Thomas can seem like a woman hoarding a prodigious buried treasure of sensuality. On the other hand, in the forthcoming "Nowhere Boy," she is equally irresistible in a totally different direction as John Lennon's Aunt Mimi, a standard-bearer of lower-middle-class English propriety who has no discernible sexual identity.
My own year-old take on her "award-caliber portrayal" in "Nowhere Boy" can be found here.
[Photo: The Weinstein Company]