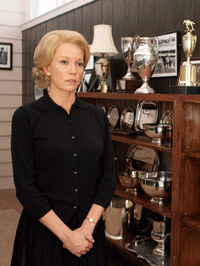 Oh how things have changed since I last wrote in this space. In the past four weeks, Tech Support has taken a break, allowing the dust from the festival circuit to settle, and other titles to open. Over the next 10 weeks, we'll take a second look at each of the crafts categories, finishing in mid-December – just as awards circuit takes hold.
Today, we take a second glance at Best Art Direction. As stated last time, this category tends to reward period and fantasy films.The branch  has some favorites, but it's not overly incestuous. And while being a Best Picture contender certainly helps, nominees can often come from the surrounding fray.
Perhaps I'll start with a film that I thought would score here, but came out of Toronto in even greater shape than I expected: Tom Hooper's "The King's Speech." With prestige and period attached, I am virtually certain Eve Stewart, who was nominated in this category 11 years ago for Mike Leigh's "Topsy-Turvy," will be heading to the Kodak. Not only am I confident she'll be nominated again, I think she has excellent potential to win.
As I mentioned last time, I continue to believe that two blockbuster titles we've already seen are still in great shape: Christopher Nolan's "Inception" and Tim Burton's "Alice in Wonderland." That having been said, I wouldn't call either locked. The former's Guy Dyas has had difficulty getting nominated in the past and the latter's Robert Stromberg, despite coming off a win, could be harmed by a lack of critical respect for the film. That said, I think both are likely nominees, which means I think we can predict three of the final five with reasonable confidence.
On the other end of the spectrum of films already seen, the historical sets of "Get Low" are the sort that could find a home here. Geoffrey Kirkland was nominated for "The Right Stuff" 27 years ago, but was rather shamefully stepped over for "Children of Men" in 2006. Ultimately, I think this film will have a hard time getting anything outside of Robert Duvall (who I hardly think is assured, mind you). So I'd keep an eye on Kirkland but I'm still not banking on it.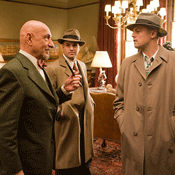 Also seen already is year is Dante Ferretti's detailed and chilling design for Martin Scorsese's "Shutter Island." While the film is hardly classic Scorsese, many aspects of the production design are catnip for this branch. Given the respect level of Ferretti, I wouldn't completely rule him out, even if I think the film will be forgotten for the most part.
Of films I mentioned last time, not all have caught on, while others, like Robert Redford's "The Conspirator" and Terrence Malick's "The Tree of Life", have been delayed until 2011.
I'm also beginning to doubt some other titles. Julie Taymor's "The Tempest" still seems to be a visual feast, likely to earn the great Sandy Powell another nomination. Alas, I'm beginning to really doubt that Mark Frieberg – overlooked for amazing work in the past – will score his first nomination for this atypical take on Shakespeare.
I should also note we heard just this week that Peter Weir's "The Way Back" will have an Oscar-qualifying run this year after all. Knowing the track record of Weir's film, some Oscar attention seems almost certain. At the same time, the film seems to be very reliant on exteriors.
Even though it opens tomorrow, I'm still not quite sure what to make of "Secretariat." It has received respectable, if not overwhelming, reviews. Tom Sanders was last nominated for "Saving Private Ryan," a dozen years ago, complementing his previous nod for "Bram Stoker's Dracula" in 1992. He could very well return for these elegant sets, but let's see how this film catches on with the public first.
So what films are still to come? The trailer for "True Grit" recently hit the web and sent shivers down my spine. This looks to be one of the Coen brothers' most handsomely mounted productions. Though I was originally skeptical that AMPAS would embrace what will be seen as a remake of an (unremarkable) Oscar-winning title, I'm now feeling I was wrong about that.  And Jess Gonchor, longtime Coen collaborator, is seemingly in good position for a first citation.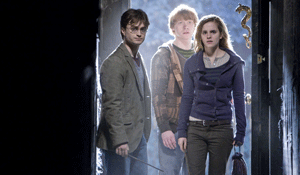 I'll end by looking at two fantasy titles. "Harry Potter and the Deathly Hallows: Part 1" will showcase yet more of the magical world legend Stuart Craig has designed for this series. After pulling off a surprise nomination for the franchise's fourth installment in 2005, it would be wise to consider him firmly in the race this year. But I somehow think they'll want to tip their hats next year, when he bows out for good.
Rather, I'm more intrigued by the potential of Darren Gilford for "TRON Legacy." I'm still not the least bit confident the film will be very good. Moreover, Gilford is primarily a graphics designer and thus not really part of the club, so to speak. At the same time, that makes me really wonder what the design will be like; I could see it being truly innovative.
That's it for now.  Next week we turn to Best Cinematography once again.
How do you see the art direction race unfolding now?  Have your say in the comments section below!
[Photos: Walt Disney Pictures, Paramount Pictures, Warner Bros. Pictures]