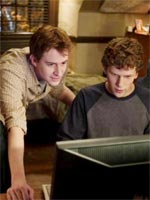 Confession: since their utterly senseless redesign, Metacritic has gone from a daily (many times daily, often) stop on my web rounds to a place I barely visit. "It's like walking through my old high school," wrote my friend Nick, echoing my thoughts precisely. "I used to live here, now I can't even find the bathroom."
It's all for the best, probably: the less brain space I devote to the numerical quantification of critical opinion that, for some folks, now seems to stand in the place of critical opinion itself, the better for my sanity. I know which critics I like and/or which ones matter, and I can just as easily visit them in their own online living rooms.
That said, I remain fascinated by how the advent of review-scoring has made the media (the new media, in particular) unprecedentedly obsessed with the role of critics — at a time when their opinion seemingly couldn't have less influence on the paying public. This year alone, we've already seen flare-ups on the blogosphere over the critics who dared to sully the Rotten Tomatoes scores for "Toy Story 3" or "Inception"; the notoriously hard-to-please Armond White has become the critic that everyone claims not to care about, yet the arrival of one of his against-consensus pans is now greeted with mass re-Tweeting.
The latest film to get the web excitedly crunching the (impressively high) numbers is, of course, current water-cooler topic and de facto Oscar frontrunner "The Social Network" (which I finally see tonight, by the way). A Metacritic score of 95 is supposedly something you can't argue with — unless, of course, you don't likethe film that much, in which case you must face the wrath of the occasional fan or blogger who takes such figures as fact.
It was ever thus, yet Metacritic is sufficiently jazzed about "The Social Network"'s score to have drawn up a bewilderingly elaborate analysis of the polled critics' analyses, breaking matters down further into positive/negative balances of individual factors such as the story and characters, screenplay and dialogue, directing and performance. The astonishing results prove that critics can find one aspect of a film more praiseworthy than another and that — gasp — "not every reviewer found 'The Social Network' to be a perfect movie."
The bit that truly makes my head hurt, however, is the chart they've drawn up to determine how certain critics have responded to "The Social Network" relative to Fincher and Sorkin's previous efforts: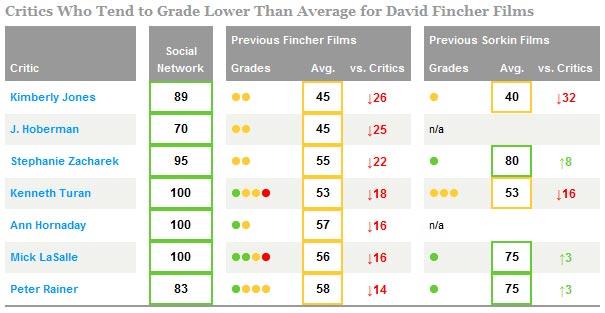 The gist of the chart is that the film managed to convince even a number of previous Fincher and/or Sorkin detractors (though not, you have have heard, Mr. White), a finding that is only surprising if you find yourself responding to all their (or any other filmmaker's) films equally.
"What changed between past works and the new film to bring these reviewers round?" Metacritic writer Jason Dietz asks, without any clear sense of irony. Oh, I don't know — the fact that he made a different film? The fact that filmmakers and critics alike age and shift and have different moods on different days? What changed between "The Diving Bell and the Butterfly" and "Miral" to ensure such differing critical receptions for Julian Schnabel? Why do some Clint Eastwood films earn critical valentines and Oscars while others get thrown to the dogs? Why does art have to change, dammit?
Okay, I'm being facetious. But even with their best intentions, Metacritic is attempting the impossible with this feature: critical thought can't be dissected and fashioned into formulas any more scientifically than it can be ascribed scores out of 100. On balance, as sites like Metacritic helpfully demonstrate, "The Social Network" is an undeniable critical success; I'm as excited about that as anybody, but it's enough to let the reviews — good, bad and somewhere in between — speak for themselves.

[Graphic: Metacritic]
[Photo: Columbia Pictures]