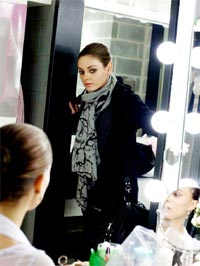 "Mila Kunis is so winning Best Supporting Actress this year," remarked an independent filmmaker to me over drinks today, referring, of course, to the 27 year-old's sly breakout turn in Darren Aronofsky's "Black Swan." This was no idle fan statement. The man knew his Oscar onions – his theory was built upon established Academy affection for hot ingénues in sashaying support roles, as well as the current absence of any obvious frontrunners in the category.
Still, even as he explained this, my eyebrows must have shot up somewhere past my hairline. As the writer who caught hell from many readers for daring not to predict Natalie Portman among my Best Actress nominees last month, the prospect of Kunis even getting nominated for subtly smoking work in an outré arthouse thriller hadn't crossed my mind. I told him as much while emphasizing, as an admirer of the performance, how much I'd like to be wrong.
"That's what everyone says to me," he replied. "'Oh, she's a revelation, I'd love to see her nominated, but she won't be.' Whenever I start hearing that kind of talk about a person or a film, that's when I go to the bookies and put money on them. If everyone's seeing the same thing in them, who's to say the voters aren't?"
Although I still don't quite buy his case for Mila Kunis, the man makes a fair point. We all love to be cynical in our Oscar projections, regularly labeling certain leftfield contenders as "too good to win" while assuming voters will see what we don't in sentimental favorites or bland prestige mediocrities. This kind of heartless approach often pays off: you'd have struggled to find an awards-watcher earlier this year who put Sandra Bullock in his "should win" column, but we all predicted her victory anyway. Meanwhile, all the critical hosannas in the world couldn't get "Julia" star Tilda Swinton in the running beside her, and we never expected otherwise.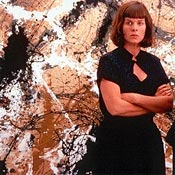 But every now and again, it pays to have a little faith. Nearly a decade ago, I remember every critic, columnist and talking head interviewed on the 2000 Oscar race saying that, yes, Marcia Gay Harden deserved the Best Supporting Actress Oscar hands down for that barely-seen Jackson Pollock biopic, but she didn't have a prayer against starrier competition. Same story with Brenda Fricker in 1989, Adrien Brody in 2002 or even 1981's surprise Best Picture winner "Chariots of Fire," all contenders with deep, even vocal, pockets of support who nonetheless never lost their dark-horse status. Upset wins like theirs suggest wishful thinking can prove contagious within the Academy.
It's a caveat worth keeping in mind as one faces a season's worth of guessing and second-guessing: while the best Oscar forecasters (my esteemed editor among them) keep subjective preferences out of the game, one shouldn't always distrust one's personal response to a contender, least of all when you hear it echoed in other quarters. Given his broad performance and lowbrow vehicle, only a few saw Robert Downey Jr. as a nomination threat for "Tropic Thunder" early in the 2008 season, but as everyone gradually realized how much everyone else enjoyed him, the possibility turned concrete. It works negatively, too: many were surprised when "Invictus" failed to make the Best Picture cut this year, but considering the film's dearth of enthusiastic fans, they shouldn't have been.
With this in mind, it's interesting to note the different points at which the growing club of journalists and bloggers who make a sport of monitoring awards season draw the line between objective handicapping and more critic-minded nudging. Last week, Rope of Silicon's Brad Brevet stirred the pot by writing that those pundits wishing to see the Academy make more forward-thinking choices "need [to] start pushing films and decisions that truly change the landscape." (His suggestions? "Black Swan" and "Inception.") His statement provoked a range of responses from his online peers: some sympathetic, but many countering that he was overestimating the influence, and misidentifying the purpose, of sites like this one.
I can see both sides of the argument: it's naïve to think that Academy members can be told what to like by bloggers any more than they can by publicists, but it's hard to deny that the media (particularly new media) plays an important role in keeping potentially below-the-radar contenders like, say, a little film called "The Hurt Locker" in the awards conversation. (There's also the concern that year-round prognostication makes self-fulfilling prophecies of ultimately undeserving nominees, but that's a topic for another day.)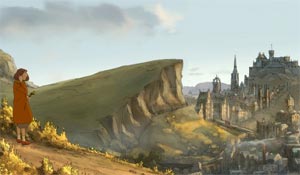 Predictions are a game, and like any game, you want to win – though that doesn't prevent me or Kris departing occasionally from the horse-race to celebrate films or individuals we feel deserve notice, whether we believe they have a shot or not. You'd have to be a pretty infrequent reader of my work not to know that I'm pretty crazy about Sylvain Chomet's animated contender "The Illusionist," but the number of posts I dedicate to the film has little to do with the hope that some suggestible Academy member may be reading – and far more with the goal of motivating any potential moviegoers to see it, for their own benefit as much as the film's.
Similarly, any good Oscar campaign should be more about sharing the work than goading people to vote for it; such is the wisdom behind a studio like Sony Pictures Classics sending out screeners of their littlest hopefuls far, wide and early. Just as my Mila Kunis-backing tipster reminded me this afternoon, the sweetest surprise nominations – or even victories – are often the ones voters feel they had to wish for.