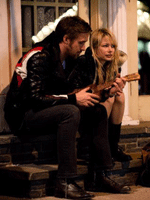 Watching Derek Cianfrance's "Blue Valentine" and John Cameron Mitchell's "Rabbit Hole" in the same 24-hour span is a brutal exercise.  There are plenty of raw, realistic, dreary emotions flying through these narratives, but the experiences were very rewarding.
Starting with Cianfrance's film, which has been making the festival rounds since a healthy Sundance reception, I found it to be a delicate and truthful examination of a relationship in crisis.  (Guy was a fan in Cannes.)  Anyone who has been through the kind of near-numbing emotional spiral depicted in the film, the false fronts of hopefulness that spring up and the crushing disintegration of affection will appreciate the authenticity.
Ryan Gosling and Michelle Williams star as young lovers pushed into the realities of family too soon and under unfortunate circumstances.  But Cianfrance and his fellow writers don't focus on those circumstances beyond offering up the information you need to understand the predicament (and, perhaps a bit too tidily, to keep judgment off the table for the viewer).  Mostly the film is a vehicle for Gosling and Williams to take the wheel and go, and boy do they ever.
Gosling is pitch-perfect as a hopeless romantic and a simple fellow with simple goals.  His character is unfortunately a bit elusive because we don't have the same context of his family life (or lack thereof) as we get from his co-star, but that's part of his appeal for both the viewer and his on-screen spouse, and Gosling being one of the most talented screen actors in the game is an asset for the filmmakers.  The actor pulls you in with the kind of lived-in believability and charm we've come to expect of him.
Williams, meanwhile, is gold as a woman lost in the life she didn't anticipate, fractured by duty and spirit pulling in entirely separate directions.  And in that way, the film makes an oddly compelling companion piece with "Rabbit Hole," where Nicole Kidman stars as a woman desperate to move on after the recent death of her son.  These are two acting showcases by these women, conveying incredibly detailed and complex emotions conflicting and burning inside them.
Aaron Eckhart should also be championed for perhaps his best performance since "In the Company of Men." He settles into a subtle groove as a father furious and frustrated by his wife's emotional distance and desire to erase her son (and, therefore, her pain) any way she can.  But he also nails the sense of compassion his character feels he owes the circumstance, and the turmoil that bubbles beneath the surface as a result.
Mitchell has a remarkably steady, unfussy hand here following the artistic bursts of "Hedwig and the Angry Inch" and "Shortbus." And he continues to have quite the eye for young talent.  Here it's Miles Teller, who will hopefully spring board this and recent success into a fruitful career.  There's a genuine quality at work with the actor, as striking as the layered intensity Mitchell found in Michael Pitt nine years ago.
(Oh, and it's also worth mentioning Dianne Wiest's concerned but wise mother, a source of comfort and comedy in equal measure.)
Both of these films should find respect from actors, but the filmmakers should also be commended for stepping out of the performers' way while maintaining a definitive visual identity.  Though the particulars of each narrative may sound trite or familiar, they are anything but because we so rarely see them conveyed in purposeful strokes lacking cliche as we do here.  Vibrant, refreshing work from all involved.
[Photo: The Weinstein Company]