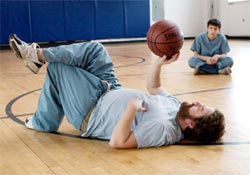 BFI London Film Festival
(LFF coverage will begin in earnest when the fest itself kicks off next Wednesday. However, given that this film is opening Stateside on Friday, it made sense to yank the review forward.)
Hitherto a pair of the brightest lights on the American indie-film scene, writing-directing duo Anna Boden and Ryan Fleck share an apparent interest in rerouting classic Hollywood story patterns to a sharper, sadder place. Their first two superb features both took on genres largely characterized by inspirational narratives, only to find compromised hope in irregular resolutions: "Half Nelson" is an idealistic-teacher movie where the educator in question needs as much repair as his students, while "Sugar" is a sports drama whose gifted baseballer hero winds up pursuing the American Dream off the pitch.
If anyone, then, could breathe new life into the well-fed subgenre of the mental-asylum drama, you'd think it would be these two. Alas, Boden and Fleck have come a cropper with "It's Kind of a Funny Story," a terminally precious and timing-deficient youth comedy that sees the filmmakers trading in their quiet, observational character shooting style for an artificial attempt to emulate the tricked-out, capital-Q Quirkiness of early Wes Anderson.
That the film is their first adaptation, built from Ned Vizzini's autobiographical comic novel of the same title, may explain the dispassionate, shortcut-laden nature of the storytelling and characterization here: 16 year old protagonist Craig (Keir Gilchrist) is a familiarly diffident boy-neurotic whose only surprising trait is that he's not played by Michael Cera, while the film trades in kooky stereotypes across the ensemble.
What the shift away from original scripting can't be held accountable for is the sudden insecurity of the filmmaking itself. Stuffed to the gills with fussy visual tics, lumpenly edited fantasy sequences and on-the-nose soundtrack selections—"Where Is My Mind" in a mental illness tale, guys? Must we?—the film suggests Boden and Fleck have thrown the baby out with the bathwater in their understandable bid for a wider audience.
The comic pitch is promising enough: after entertaining thoughts of suicide, otherwise well-raised, level-headed New York schoolboy Craig checks himself into the young persons' psychiatric unit at his local hospital, only for building renovations to force him into the adult ward. There, he soon finds himself out of his depth among elders with psychological problems far less surmountable than his; in movie-mashing terms, it's the equivalent of "Girl, Interrupted"'s wan heroine Susanna Kaysen entering the snake pit of "One Flew Over the Cuckoo's Nest."
There's potential for rich, cruel black comedy here, but the film bottles it by having Craig swiftly (and rather condescendingly) realize his good lot in life compared to the real lunatics he shares quarters with for a brief but supposedly life-altering five days. Neither does this cozy story risk engaging with anyone profoundly troubled: it's no surprise that the two principal friends Craig makes inside—cuddly sweater-wearing gadfly Bobby (Zach Galifianakis) and feisty-cute self-harming teen Noelle (Emma Roberts)—both fall on the decidedly functional side of crazy.
Any jagged edges of conflict or pain are neatly sanded away: even gentle social embarrassment is sidestepped in a scene where a reluctant Craig is made to sing for his fellow patients, only for Boden and Fleck to cut straight to a pointless fantasy rock video wherein the entire group lip-syncs to (yes) Queen and Bowie's "Under Pressure." The scene represents not just a botched comic opportunity, but a curious, uncharacteristic failure on the filmmakers' part to locate or empathize with the individual voices within the kerrr-azy collective. "It's Kind of a Funny Story" is harmless enough—amiably performed, particularly by rising star Roberts, and possessed of flickering good intentions—but this is precisely the kind of material that needs to threaten some kind of emotional danger to resonate.