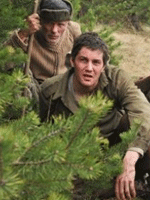 Good news for Peter Weir fans.  I'm hearing a press release announcing that the Aussie director's first film in seven years will be given a fighting chance in this year's film awards season is imminent.
The film, of course, is "The Way Back." Newmarket Films was announced as the distributor on opening day of this year's Telluride Film Festival (where Weir was in attendance for a tribute and the film saw its world premiere). It was immediately slated for a January 21, 2011 wide release date, but there was no indication that it would have a presence in the Oscar season.
Just last week, Newmarket president and co-founder Chris Ball pulled back from the company to form a new shingle, Wrekin Hill Entertainment, and "The Way Back" was announced as one of the company's first releases (jointly with Newmarket). And today it looks like the film will be slated for a one-week Oscar qualifying run in December.
I found Weir's film to be best in show at Telluride this year. At the time I called it "quietly profound, epic, bold filmmaking at its very best…unconventional in its depiction of a long march by Siberian Gulag escapees out of Communist Russia. But rather than becoming repetitive or aimless, the film's series of vignettes depicting the mundane particulars of survival (be it physical or psychological) is incredibly moving and consistently engaging."
When I spoke with Weir at the fest, he was still unsure how things would play out and called a potential Oscar run an issue of money. And he seemed like a filmmaker very aware of a changing tide in the industry.
Interestingly enough, he happened to foreshadow the forming of Wrekin Hill in some way when he told me he was "disappointed that so far there doesn't seem to be a young, Weinstein-type team coming through in the distribution area." He also said he "thought this would be an opportunity for someone in this kind of panic and caution to take advantage of it and it's a chance to build a new company that could put together…a very good program." Given the films on Wrekin Hill's plate (the Billy Joel documentary "The Last Play at Shea" and Sundance acquisition "Hesher"), it would seem Weir got his wish.
Meanwhile, a statement from Ball accompanying the Wrekin Hill announcement conveyed similar sentiments:
While there may be challenges in the independent theatrical world right now, it is also a time of great growth and opportunity as new methods of distribution are being tried and developed. Forming Wrekin Hill will give me and my partners the flexibility to work on a wide variety of films and craft distribution plans that are unique and appropriately scaled for each film we acquire.
Immediately leaping into the race, I should think, would be Colin Farrell's magnetic performance as a Russian ruffian. Also noteworthy is Ed Harris's performance as an American expatriate, Saoirse Ronan as a young tag-along and Jim Sturgess's unfussy leading man portrayal.  Russell Boyd's exquisite photography should also be a part of the conversation along with the rest of the film's refined below-the-line aspects.
The film is inspired by the true story documented in Slavomir Rawicz's book "The Long Walk," covered in our Page to Screen series in June.
UPDATE (11:07am): And on cue, the press release lands.  Here it is in full:
Los Angeles, CA (October 1st 2010) – Nigel Sinclair, CEO and Co-Chairman of Exclusive Media Group ("Exclusive") and Newmarket Films ("Newmarket")and Chris Ball , President and CEO of newly formed Wrekin Hill Entertainment ("Wrekin Hill") announced today that their first joint Newmarket / Wrekin Hill release will be to give, six-time Academy Award nominee Peter Weir's THE WAY BACK , an Academy Award qualifying run from December 29, 2010 in Los Angeles, followed by a theatrical release of upwards of 500 screens on January 21, 2011.
The film stars Ed Harris (Pollack, Gone Baby Gone), Jim Sturgess (Across the Universe, The Other Boleyn Girl), Saoirse Ronan (Atonement, The Lovely Bones), Mark Strong (Sherlock Holmes, Kick Ass) and Colin Farrell (In Bruges , Crazy Heart).
The Way Back is the first film produced under the Exclusive Films label to be distributed through Exclusive's subsidiary, Newmarket in partnership with Wrekin Hill. National Geographic Entertainment and Imagenation Abu Dhabi co-produced the film as part of their joint production agreement.
The Way Back, which recently had its World Premiere at the Telluride Film Festival, is inspired by Slavomir Rawicz's acclaimed novel The Long Walk: The True Story of a Trek to Freedom, as well as by other real life accounts. The film chronicles the escape of a small group of multi-national prisoners from a Siberian gulag in 1940 and their epic life affirming journey over thousands of miles across five hostile countries.
"After the positive reception and critical acclaim we received at Telluride, it was clear that THE WAY BACK should have an Oscar qualifying run. It was incredibly gratifying that audiences and critics responded so favorably to Peter Weir's vision, the actors' outstanding performances, and the stunning craftwork," comment Sinclair and Daniel Battsek, president of National Geographic Entertainment.
Notes Ball: "As a new company, we are honored to have the Wrekin Hill name attached to such an acclaimed film as THE WAY BACK. We are extremely enthusiastic about bringing the film to audiences this winter."
Producers are Joni Levin, Peter Weir, Duncan Henderson and Nigel Sinclair. Keith Clarke, John Ptak, Guy East, Simon Oakes, Tobin Armbrust, Jake Eberts, Edward Borgerding, Mohammed Khalaf, Adam Leipzig, Scott Rudin and Jonathan Schwartz are Executive Producers.