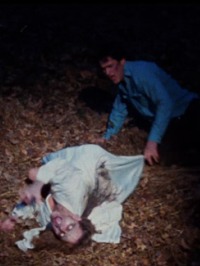 Catch up with the idea behind this series here.
Can I just take a moment here to publicize that the 1980's are by far, my least favorite decade in cinema. Despite the great titles that I'll be spotlighting here and my feelings that it was the best time for blockbuster filmmaking, it's just a generally depressing era. Genuine artistic voices were in short supply so if anyone has recommendations for these years, definitely throw them my way.
Perhaps I should start with "Chariots of Fire," one of only a handful of Best Picture winners I have yet to see. The unheralded British production was a surprise winner over Warren Beatty's "Reds," which I have also not seen.
I was, however, conceived in 1981 so cut me some slack on these titles. I'll get to them. As I was preparing to enter the world, all four acting winners were on their way out, averaging 71 years old, including Henry Fonda's first ever win.
Another British production about a true story, "Gandhi," took top honors in 1982. This was also the year "Tron" was disqualified from the Best Visual Effects category because the Academy thought using a computer was cheating.
1981 – "The Evil Dead" (Sam Raimi)
I'm not really a huge fan of "The Evil Dead," but 1981 presented itself to be a weak year for eligible films that I've seen and I had to pick something. That being said, Sam Raimi's debut feature has an awful lot going for it and thoroughly scared the shit out of me when I first saw it at age 16. It's a testament to the talent on display here that despite going on to make the utterly unwatchable and worthless "Crimewave" next, he not only managed to work again, but eventually take the reigns of one of Hollywood's biggest franchises.
The story is simple enough- a group of young people head to a cabin in the woods and accidentally unleash demonic forces that cause all sorts of unruly shit to happen. Not exactly Nobel Prize material. But Sam Raimi had enough visual tricks up his sleeve to keep things interesting and his devotion to The Three Stooges infused the blood and guts with enough sly humor to signal a unique voice amongst the genre. Plenty of the credit should also go to lead actor, Bruce Campbell, who takes on the role usually given to female scream queens and goes crazy with it.
Famously made on a tiny budget, viewers with no knowledge of the backstory would be hard pressed to find flaws in the makeup, effects and execution. Us old fogeys say it all the time, but practical effects truly make all the difference in the world when it comes to making the fantastic seem completely real. "The Thing" being a hallmark example for the sci-fi genre from the same time period. If you need proof that limitation feeds creativity, look no further than a double feature of this film and "Spider-Man 3."
Bottom line again, is that the film is extremely scary. Particularly to a teenager raised by hard core Christians to whom nothing is scarier than demonic possession. The campiness makes repeat viewings fun, but I'll never forget how the hairs raised on my neck the first time I saw the card guessing sequence. At that point, the film has been a model exercise in tension and atmosphere building and from that moment on, it's a non-stop shitshow of horror. Not everyone's cup of tea, and typically not mine, but executed with such glee and conviction that it's hard not to be swept in.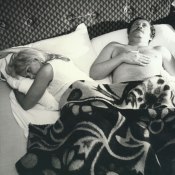 1982 – "The Prefab People" (Béla Tarr)
I first heard of Béla Tarr through Gus Van Sant. I had read that "Gerry" was in some ways a direct copy of Tarr's style and since I thought "Gerry" was pretty much the greatest thing ever, I had to look into this Tarr fellow. I watched "Werckmeister Harmonies" and immediately saw what everyone had been talking about. His meditative, patient style was a perfect match for the philosophical yearning explored in both that film and Van Sant's. It's a fabulous film, despite being boring and pretentious (not always pejoratives in my book). When I saw his earlier work, I was absolutely floored.
"The Prefab People" follows a married couple with a newborn baby through a few days in an economically desolate Hungary. The husband grows increasingly disconnected from his family and his wife grows increasingly frustrated by him. The only real plot development is the chance of a job that would take the husband away for a while. With this simple framework, Tarr creates a devastating portrait of these characters and without any of the style or enigmatic themes he would employ in his more famous, later work. This is a film Mike Leigh or John Cassevetes could have made.
The exquisite cinematography comes courtesy of Barna Mihók, working with black and white stock and very limited resources. Tarr's uses extreme close-ups on his characters for much of the film, symbolizing the claustrophobic nature of their relationship, and Mihók finds a way to frame and light their faces for maximum emotional impact. Tarr's love of long takes also makes for good use in a fantastic scene involving a drunken party where he pans back and forth between husband and wife rather than cutting- the space between them hogging up as much screen time as they do.
It's up to the audience to pick sides, since Tarr refuses to. Is the husband a boor or underappreciated? Is the wife shrill or neglected? This was the first time Tarr had worked with professional actors and the results are noticeable in how unnoticeable the 'acting' really is. Róbert Koltai and Judit Pogány beautifully inhabit the characters and are both completely fearless. The film is a scant 80 minutes but there's so much packed in that you're left exhausted by the final, heart-breaking shot.
Those are my picks. What do you guys think?
[Photo: Fearnet]
[Photo: Walkerart]