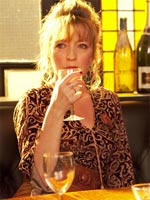 As you probably know, I'm rooting hard for seasoned character actress Lesley Manville to get her first Oscar nod this year for Mike Leigh's "Another Year" — and the quality of her piercing tragicomic performance isn't the only reason.
For a director renowned for his close relationship with a regular, rotating crew of actors, the Academy's response to his films thus far hasn't really reflected that loyalty. Only three thesps (all women) have been Oscar-nominated for their work in a Leigh film — a number far smaller than it should be — and all of them, oddly enough, were tapped for their first collaboration with the director. (Moreover, only one of them has since returned to Leigh: that'd be "Vera Drake" lead Imelda Staunton, who has a striking cameo in his latest.)
Should Lesley Manville manage a nomination, then, she'll be the first of Leigh's regular posse to be thus rewarded. Indeed, Manville is Leigh's longest-serving ally. She first collaborated with the director on a 1979 radio play before going on to star in six of his feature films, climaxing with a stunning lead turn in 2002's "All or Nothing" that was shamefully ignored by awards bodies on both sides of the Atlantic. It's sweet to see the middle-aged actress  finally having her moment in the sun with "Another Year" — she's earned it.
Putting all this into context, in the November edition of UK film magazine Sight & Sound, Manville and Leigh give a great joint interview in which they discuss both "Another Year" and their evolving professional partnership. (It isn't yet available online, but is on newsstands now.) In the piece, Manville alludes to Leigh's famous, if often misunderstood, collaborative method of scripting and character building, and suggests that Mary (the lonely, faux-cheery singleton she plays in the film) was their most deep-rooted creation yet:
As I get older, I'm playing older characters.  Twenty years ago it was quicker, because you kind of get to 30 and that's it. Where you're creating Tom and Gerri and Mary's lives — and Mary has been in their lives for 20 years — you get to 30 and you've still got another 20 years to develop … I've been around a long time and experienced a lot, and also the preoccupations have shifted. This film has a lot of very personal preoccupations going through it.
Leigh, meanwhile, sings Manville's praises (describing her as "impeccable" on the precision of scripting), and explains how, in the workshopping process, the scale of characterization is determined by the actor rather than pre-ordained script ideas:
In the end, of the various tricks I get up to, one of the most blatant is that the film expands or contracts according to the strengths of the actor. That's not to say that David Bradley isn't brilliant, even though he only comes in at the end [of "Another Year"]. I wouldn't make "Happy-Go-Lucky" completely carried by Sally Hawkins if it wasn't for her stuff. Similarly here, this is a film where Mary, who is centre stage in the narrative, is probably the most irrelevant in the central characters' lives!
Given the debate in some quarters over whether Manville should be campaigned for lead or supporting awards, it's interesting to hear Leigh assert her position as the central figure in the piece. I maintain that "Another Year" is a three-lead film, but that having the most active, shifting character should place Manville first in the pecking order.
Among other nice nuggets in the interview, Leigh also politely addresses misconceptions about the level of improvization in his films — worth bringing up, since every time a Leigh film enters awards season, some pundits raise the same lame-brained arguments about Leigh not "writing" his scripts. The writers' branch of the Academy, happily, isn't fooled: he's had four Best Original Screenplay nominations in his career, and looks comfortably on course for his fifth. As Kris just pointed out in the Contenders section, he has to win sometime. Fingers crossed it's the same year his most loyal cast member gets invited to the dance too.
More from Sight & Sound here.
[Photo: Sony Pictures Classics]