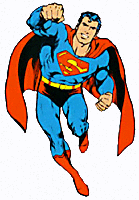 How's that for an SEO-baiting headline?  You'll find them everywhere today.
And the thing is, I strangely have little to no comment on the matter.  Snyder is a good guy.  He's done well by Warner Bros.  It makes sense for a lot of people involved but there's still something insular and unimaginative about it all.  And moving in a direction I don't see as a fan, but what do I matter?  (The villain will be General Zod, by the way.)
Anyway, I had my say on all of this once — no, twice, actually.  I wish the production well.  Why don't you just tell me what you think already?
Oh, speaking of Nolan, nifty "Inception" trailer, re-imagined for the 1950s, after the jump.
[Photo: DC Comics]