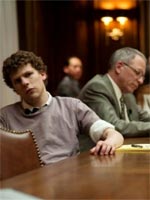 Last week, I mused on the possibility of "The Social Network"'s highly youth-oriented narrative proving a bit of an obstacle to older audiences, Academy members among them. So far, it seems not to be a problem: judging on reactions I've skimmed and conversations I've had, interest in the film spans a broad demographic range, as the media saturation has ensured even people who wouldn't dream of opening a Facebook account are aware of its existence.
Nevertheless, a couple of articles published over the weekend suggest that the film does still expose a generational divide — just not in simple "will see/won't see" terms. Rather, as the NYT's David Carr writes, it's the way audiences respond to the film and its characters that is likely to differ across age groups, with some seeing it as a cautionary tale and others as a success story:
"When you talk to people afterward, it was as if they were seeing two different films," said Scott Rudin, one of the producers. "The older audiences see Zuckerberg as a tragic figure who comes out of the film with less of himself than when he went in, while young people see him as completely enhanced, a rock star, who did what he needed to do to protect the thing that he had created."
What's interesting is that either reaction paints Zuckerberg in a more sympathetic light than might have been expected, considering how some argued that the socially autistic billionaire was too cold and unrelatable a protagonist for a successful commercial feature.
Meanwhile, The Wrap's Sharon Waxman writes that we might have misidentified the film's potential blind spot all along — rather than older viewers less familiar with the technology and social scene it deals with, Waxman anticipates a "backlash" from the more clued-up, web-savvy audience, who may feel they know more about the subject than either David Fincher or Aaron Sorkin:
A large majority of the film's producers and principal architects have no active Facebook pages, including screenwriter Aaron Sorkin and director David Fincher… Moviegoers who devote a good part of their lives to the website – it's where increasing numbers of Americans spend the bulk of their online time – feel somewhat offended. And in some way, the filmmakers have missed the special sauce of Silicon Valley – the understated drive of its geek-entrepreneurs.

"There's something that feels quite dated and very 1990s about all of this, like the filmmakers never bothered to meet some of the geeksters — geeks and hipsters — at Facebook, Twitter, Yelp, etc. who fuel the social media renaissance in Silicon Valley," [Huffington Post contributing editor Jose Antonio Vargas] complains.
I'm not sure I necessarily see that as a disadvantage — that "The Social Network" is less about social networking itself than the social (and legal) fallout it creates is what has made it a water-cooler topic among viewers who otherwise would have no personal connection to, or investment in, "the Facebook movie." It's difficult to see how Fincher and Sorkin could have pleased everybody in taking on a pretty niche subject; for now, they seem to be doing pretty nicely.