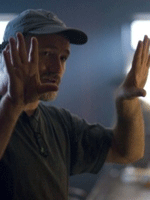 As mentioned over the weekend, I'll have a David Fincher-themed list coming your way tomorrow.  In the meantime, however, I thought I'd update the poll with a new query.
Fincher has offered up eight feature films in the last 18 years.  It's a healthy portfolio and, I think it's fair to say, a singular one.  I've had a blast digging back into his work over the past week or so but I don't even think I could answer this question fully at the moment.  Still a few more re-viewings to go.
Now that "The Social Network" is in theaters, I'll just put it out to you: What's your favorite film from the director?  Check the left sidebar and pencil in your vote.  And feel free to use this space to discuss your pick and others'.
Be sure to check back some time tomorrow for that list, our first in, jeez, three months?  We really should knock the dust off that feature.