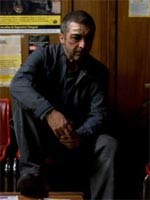 I neglected to mention this over a busy weekend, but the deadline for Best Foreign Language Film Oscar submissions passed on Friday. That doesn't necessarily mean we have all the contenders set in stone, however — we're still waiting on the official list from the Academy, which always features a couple of latecomers and a switched selection or two.
Still, to all intents and purposes, the eventual Oscar shortlist is set to come from the 62 titles entered thus far. (Check out our updated list here.) The most notable submission among the last-minute stragglers is Argentina's "Carancho," a romantic legal thriller from director Pablo Trapero — whose previous feature, the strong female proson drama "Lion's Den," was the country's unsuccessful Oscar submission in 2008.
The film stars Ricardo Darin, a familiar face to that voting branch; the Argentine superstar has headlined five of the country's last nine entries, including reigning Oscar champ "The Secret in Their Eyes." The film played in Un Certain Regard at Cannes, where it was rather well-received. I'll be catching up with it at the London fest this month.
I'll pick through the contenders in more detail closer to the announcement of the nine-film Oscar shortlist in January. At this stage, based on a combination of hearsay and gut feel, I'd venture that the major threats for the win (sight unseen, mostly) appear to be Canada's "Incendies," South Africa's "Life, Above All," Iraq's "Son of Babylon" and Denmark's "In a Better World," with Algeria ("Outside the Law"), the Czech Republic ("Kawasaki's Rose"), France ("Of Gods and Men," which I'll have my second stab at tomorrow), Mexico ("Biutiful") and Thailand ("Uncle Boonmee Who Can Recall His Past Lives") all likely to have some adherents in the voting branch. This last is one I'd bet against general voters embrancing, but I can easily imagine the executive committee shoehorning it into the shortlist to gain critical cred.
That said, predicting the early rounds of voting in this most wilful of categories is a fool's errand. What do your instincts tell you?
[Photo: Strand Releasing]