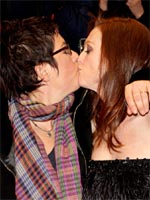 In Oscar-watching, causes can be seasonal things: there's no guarantee that what the industry and the media jointly declare a crucial issue one year will last to the next. In 1991, "Beauty and the Beast" earned applause for breaking the animation ceiling in Best Picture, but it took 18 years (and a format change) for the Academy to go there again. The year after voters redressed the balance by handing both their lead acting Oscars to African-American actors in 2001, not a single black face featured in either category. Every year has its own story.
We might well be learning that again this year. In many quarters, 2009 was dubbed "the year of the woman" as a string of successes for female filmmakers culminated in Kathryn Bigelow's history-making Oscar win.
This year, however, that level of cheerleading has been largely absent, despite another strong year for women in the field: Debra Granik and Sofia Coppola were the toast of Sundance and Venice, respectively, box-office titan Pixar announced its first female-helmed feature and Lisa Cholodenko's "The Kids Are All Right" was the crossover arthouse story of the summer.
For all that, while Cholodenko remains a dark horse to be reckoned with, the odds are against a woman breaking up an all-male Best Director lineup this year; Academy members may be basking in the righteous glow of Bigelow's win, but one Oscar does not an entire industry change.
So I was interested to read this quote by Cholodenko in the Guardian a few days ago, in which she addresses the perceived bias against female filmmakers in Hollywood — and concludes that sexism is not the cause so much as a key divergence of interests:
According to Cholodenko, Hollywood's "bottom line" is still the dollar: bums on seats are all that really count. And what kinds of movies put bums on seats? Action movies, thrillers, comic-strip capers, films that involve CGI and special effects and stunt men. Cholodenko's point – and it's a good one – is that women generally don't want to make those kinds of films. They are more interested in character, in human psychology, in motivation.

"I still think that it's lopsided, the value we give to things," she said. "Why should a film have to have all that stuff in it: the guns, the special effects? Why does a film like, say, Lost in Translation by Sofia Coppola get called 'petite'? We valued [the domestic aesthetic] in the Seventies, when films like The Graduate, Five Easy Pieces and Coming Home got made. But now? I don't think that we do."
Many, of course, will relate this point back to the theory held by some industry-watchers that it was Kathryn Bigelow's mastery of a male-dominated genre that enabled her Oscar success — not one I particularly shared given that both Jane Campion and Sofia Coppola, while falling at the final hurdle, still garnered Academy notice for highly delicate, feminine works. But if "The Kids Are All Right" cruises to a Best Picture nod, as many assume it will, it'll be interesting to see how much Cholodenko's name even enters the Best Director discussion — or if, as was the case with Lone Scherfig last year, the director's contribution to a so-called "actors' film" will be deemed invisible.
[Photo: Ace Showbiz]