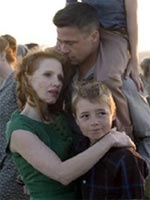 When Terrence Malick's endlessly postponed "The Tree of Life" was finally handed over to Fox Searchlight and ruled a 2011 release, the conversation turned to which festival would get to host the film's premiere. Many pundits (myself included) assumed that Cannes's top dog status — in terms of both red-carpet allure and awards heft — would get it the gig, but if this tweet from the ever well-informed Cédric Succivalli is to be believed, we could be seeing it earlier than that.
Succivalli writes that the film's French distributor EuropaCorp has confirmed a February 23 release date, obviously ruling out a Cannes appointment three months later. That leaves only two major fests where it could potentially bow: Sundance (an idea Anne Thompson previously floated on Oscar Talk) and Berlin.
Interestingly, the mid-February Berlinale was the festival of choice for both "The Thin Red Line" (which won the Golden Bear) and "The New World" (which played out of competition), even if neither film actually had its world premiere there. So it wouldn't be entirely surprising to see "The Tree of Life" extend that relationship.
Though Berlin, which has struggled in recent years to match Cannes and Venice for prestige, would offer a lower-profile platform for the film than we might have expected, that could also work in its favor — at this stage, Searchlight must be seeking somehow to ease pressure on the overdue, and feverishly anticipated, film.
Of course, there's also the possibility that the film could shirk the festival circuit entirely. As mentioned above, neither of Malick's last two features premiered at a festival, but they were also heading into the publicity rush of awards season — a gamble that really didn't pay off for the overly rushed "The New World." A high-end festival still seems the most sympathetic place to launch a reportedly challenging arthouse piece like "The Tree of Life," and if Berlin does get the nod, consider my plane ticket booked.
[Photo: Fox Searchlight]