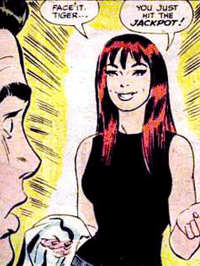 Catch the idea behind these weekend posts here.
I don't have much in the way of a conversation starter this week.  However, I was happy to see Emma Stone's career taking off with the news that she'll be offered the Mary Jane Watson role in Sony's "Spider-Man" reboot.
Many first took notice of the actress in last year's "Zombieland" but most really perked up with her "Easy A" performance.  Personally, I've been quite taken by her since her big screen debut in Greg Mottola's "Superbad."
I never took to Kirsten Dunst in the role, by the way.  There's a certain sultriness to the character that Dunst (an actress I don't like in general, "The Virgin Suicides" excepted) just didn't have.  Stone has that in spades, though I feel like there's still something slightly off.  Maybe it's just the general idea of a "Spider-Man" reboot that I still can't wrap my head around.  Who knows?  But this would be a smart choice by a young star at the beginning of her career.
Also, caught up with "Let Me In" yesterday, as promised during Oscar Talk.  I was sad to see that so much of the original film's sense of brooding implication was mostly sacrificed for spelling things out.  And that final shot?  Arbitrarily butchered.
Chloe Moretz and Kodi Smit-McPhee, however, were both wonderful and I mostly enjoyed their developing relationship.  But even that ran dry after a while.  I started to find the sustaining of Abbey's subdued nature almost humorous, whereas that wasn't really the case in the original.  I'm eager to watch Tomas Alfredson's film again, though, and hopefully this remake will at the very least spark interest in it from a wider audience.
Anyway, that's it for my brain vomit.  Anything you guys have caught up with, new or old, that you'd like to discuss?  Open thread.
[Photo: Marvel Comics]