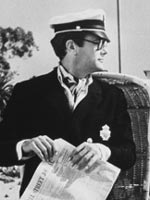 • A grim week for Hollywood talent, as we said goodbye to Gloria Stuart, Tony Curtis, Arthur Penn and, most prematurely, Sally Menke.
• Mexico's "Biutiful" became the starriest entry yet on the Best Foreign Language Film longlist, now up to a round 60 titles.
• This week's Long Shot column examined the widely predicted "Social Network"-versus-"King's Speech" Best Picture battle, wondering what it says about the current state of "Oscar bait."
• Just to remind us that there are other films knocking around, the long-awaited trailer for the Coens' "True Grit" set the web abuzz.
• We launched our new weekend Cinejabber feature, inviting your thoughts on the perils (or otherwise) of using the word "masterpiece."
• "Wall Street: Money Never Sleeps" mostly lived up to its title, topping (if not pulverizing) the U.S. box office charts.
• Perhaps unexpectedly, we found ourselves with kind words for Fox Searchlight's Hilary Swank vehicle "Conviction," as well as animated feature possibility "Tangled."
• Life With Oscar took a comic turn this week as it spotlighted outstanding non-nominated films of 1979 and 1980.
• A quieter week than some, but as usual, Anne and Kris ran through its developments in the latest episode of Oscar Talk.
[Photo: ABC News]