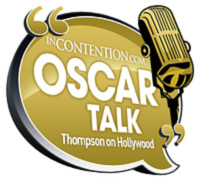 Welcome to Oscar Talk.
In case you're new to the site and/or the podcast, Oscar Talk is a weekly kudocast, a one-stop awards chat shop between yours truly and Anne Thompson of Thompson on Hollywood. The podcast is weekly, every Friday throughout the season, charting the ups and downs of contenders along the way. Plenty of things change en route to Oscar's stage and we're here to address it all as it unfolds.
Two incredibly well-reviewed films are hitting theaters today and Academy voters already have screeners sitting on their doorsteps, not to mention a somber week for the Hollywood community, so there's plenty to dive into. Let's see what's on the docket…
• As usual, Sony Pictures Classics is early out of the gate this season with DVD screeners of "Animal Kingdom" and "Mother and Child" hitting voters' doorsteps this week.
• David Fincher's "The Social Network" hits theaters today after a long-sustained, intense media blitz. How will it do with the public? We discuss its commercial potential.
• Anne recently hosted a Q&A for Debra Granik's "Winter's Bone," which was well-received by an all-guild crowd. The buzz has died down a bit now but it'll come back, but I'm left wondering. Anne is still convinced as ever.
• A recent Disney lot presentation included a screening of the animated "Tangled." Anne caught part of it, I saw the full film as you know. We discuss the studio's latest musical endeavor.
• Also part of that presentation was some added hype for Randall Wallace's "Secretariat." We offer up our thoughts on the film (she likes it more than I do) and debate its awards prospects (which we agree are dependent on how the critics react).
• The week offered one punch in the gut after another as a string of deaths, some of them quite untimely, littered the headlines. One of them, editor Sally Menke, seemed particularly tragic. We remember her.
• Finally, also opening today is Matt Reeves's "Let Me In," which appalled Anne's Sneak Previews class recently. I haven't seen it yet but she's given it took looks and offers up some thoughts.
Have a listen to the new podcast below. If the file cuts off for you at any time, remember you can click the download link to save it directly or play from the source. And as always, remember to subscribe to Oscar Talk via iTunes here.
[display_podcast]