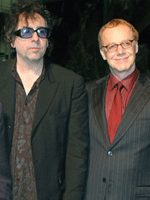 In the "sign me up now, please" category today is a recently announced boxed set of Danny Elfman's music collaborations with filmmaker Tim Burton.  I first heard about the limited edition set via the New York Times in a piece that went up on the Arts Beat blog yesterday.  It featured a video with Burton and Elfman discussing the monumental "Batman" score — talk about grabbing my attention.
Anyone who knows me knows what role that 1989 superhero extravaganza played in my film-going youth.  But the idea that there might be some extra, never-before-heard material waiting in a vault somewhere?  Giddiness.  Pure giddiness.
But it's not just "Batman" stuff.  The set celebrates "the 25th anniversary of the ingenious collaboration" between the two singular artists, reads a press release that went out today.   "[The] numbered box set of 1000…collects expansions of the 13 original scores that Elfman has composed for Burton's iconic films" and is "a newly produced library of 16 CDs each packaged with artwork by Burton, adding up to more than 19 hours of music."  Wow.
In that Arts Beat piece, Elfman had some lovely insights on the work he's put together for and with Burton over the last two and a half decades.  Of particular interest to me, of course:
It's a mixed bag of work tapes, demos, and in those demos, ideas that didn't make it into movies. There's a whole stretch of a "Batman" work tape, of "Batman" music that never made it into the movie. On the one hand, that was cool for me to listen to. I'd forgotten I had all these ideas that never survived. On the other hand, I was horrified that 20 years ago, demos sounded really bad. I'm in the middle of writing this huge disclaimer, trying to explain what a work tape is, and the difference of what I was working with 20 years ago. Between "Beetlejuice" and "Alice in Wonderland," you can hear, oh, O.K., big difference.
According to the release, additional highlights include:
• Among the 19 hours of music are seven hours of previously unreleased music including such rarities as additional masters, cut songs, song and score demos, work tapes, orchestra-only song mixes, and foreign-language songs.
• Danse Macabre: 25 Years of Danny Elfman and Tim Burton: A meticulously researched, lavishly illustrated 250+ page fine linen-wrapped hardbound book, entitled with gold foil stamping, and featuring a foreword by Johnny Depp. The book also includes rare photos, stories, and interviews from the cast and crew behind the scenes of this classic music — from the early days of Elfman's band Oingo Boingo to the recent blockbuster film Alice in Wonderland. Interviewed are such collaborators and peers as Guillermo Del Toro, Phillip Glass, Paul Haggis, James Newton Howard, Tom Jones, Michael Keaton, Ang Lee, Errol Morris, Thomas Newman, Catherine O'Hara, Jon Peters, Paul Reubens, David Rockwell, Scott Rudin, Marc Shaiman, Howard Shore, Twyla Tharp, Gus Van Sant, and Richard Zanuck. This comprehensive 10″x10″ keepsake book is written by acclaimed film-music journalist Jeff Bond and designed by Grammy Award winning designer Matt Taylor.
• An hour-long exclusive, newly filmed DVD featuring an extended conversation between Burton and Elfman as they reflect on their quarter-century collaboration.
• As a collectible created exclusively for this treasure box of music, a distinctive Skeleton Key USB Flash Drive has been designed—inspired by the art of Tim Burton. A pull of the key unlocks a USB drive loaded with MP3s of the entire contents of this Limited-Edition Music Box. From Pee-wee's Big Adventure through Alice In Wonderland, it's all there, including all the bonus tracks, demos, work tapes, and other rarities.
• Newly created liner notes by Elfman discussing each expanded score and their bonus material of additional masters, song and score demos, work tapes, orchestra-only song mixes, and foreign language versions.
• A collection of music as unique as Elfman's for the films of Tim Burton needed to be housed in something equally special, wondrous, and whimsical. Designed to evoke a treasure chest found in a mysterious attic, The Danny Elfman & Tim Burton 25th Anniversary Music Box is a work of art in itself. Grammy-winning designer Matt Taylor has transformed previously unseen art by Burton and crafted a large scale, tin-covered music box complete with an embedded music chip playing "The Music Box Suite" arranged and performed by Elfman specifically for this historic collection. And to literally top it all off, with a flip of the lid, a delightful working zoetrope is revealed featuring strips of art and photos by Burton and Elfman that come to animated life with a spin.
The set will be released in December but it is available for pre-order now at BurtonElfman.com at a whopping 500 bucks.  I had to spring for one.  Here's a promotional video from the site:
And by the way, as the release states, a bunch of Burton's original artwork accompanies each element of the set. So I might as well put this up: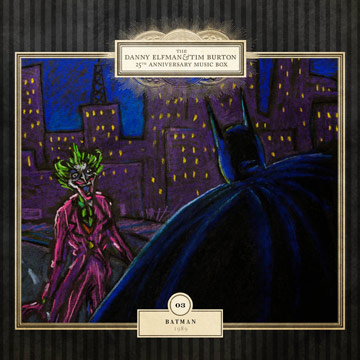 [Photo: Ask Men]