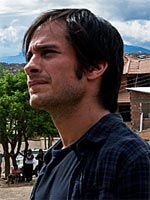 With the official (though not necessarily final) deadline for submissions just two days away, there's been a flood of new additions to the list in the past few days, including two big guns that were holding out on us — Italy and Spain. (Check out our updated list, now up to 55 titles, here.)
Among those who follow this race, all eyes were on Italy's selection, and not just because the country still holds the record for most wins in the category. (The Italians' fortunes have dipped rather in recent years, however: since "Life is Beautiful" triumphed in 1998, they've managed only a single unsuccessful nod.) With a shortlist of 10 contenders to choose from, it was difficult to predict which way the Italian selectors might lean.
Many Oscar-watchers assumed that the high-profile Tilda Swinton starrer "I Am Love" would get picked, but that was always unlikely: far less well-received in its home country than in English-speaking territories, chances are the film's stylistic excesses wouldn't have been to the Academy's taste either.
A safer bet seemed to be the earnest if unexciting family drama "Our Life," for which Elio Germano won the Best Actor award at Cannes in May, and relatively popular directors like Gabriele Muccino and Ferzan Ozpetek also had works in the running.
As it turned out, the country surprised many by opting for Paolo Virzi's "The First Beautiful Thing," a comedy about a curmudgeonly university professor charged with looking after his dying mother. The film seems to be a largely unknown quantity in the English-speaking critical world, but reports suggest it's a slight, sentimental work.
Meanwhile, after being unable to submit Mexican co-production "Biutiful" for themselves, Spain has supplied the race with its second vehicle for a Spanish-speaking crossover star, this one showcasing Gael García Bernal. (In a neat bit of symmetry, Mexico's entry is anchored by a Spaniard, and Spain's by a Mexican.) "Even the Rain" is a film-within-a-film starring Bernal as a director presiding over a troubled Christopher Columbus biopic shoot in Bolivia, helmed by well-regarded actress-turned-director Icíar Bollaín and written by her husband, regular Ken Loach collaborator Paul Laverty.
The film only opens in Spain in January next year, which ostensibly goes against Academy regulations for the category (submissions must have been locally released prior to October 1), but I am informed that a qualifying release has been arranged. Meanwhile< I'll be sure to catch up with the film at the London Film Festival next month.
Meanwhile, other countries to have submitted entries since my last update include China (domestic blockbuster "Aftershock"), Colombia ("Crab Trap"), Hong Kong ("Echoes of the Rainbow"), Iceland ("Mamma Gógó"), Indonesia ("How Funny (This Country Is)"), Nicaragua ("La Yuma") and Portugal ("To Die Like a Man" — sorry, Manoel de Oliveira fans). That leaves reigning champion Argentina as perhaps the most significant country yet to enter.
[Phoyo: Cineplex.com]