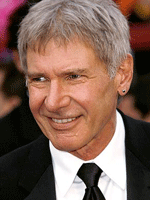 The press release, in part:
In recognition of his contributions to the world of film, the Santa Barbara International Film Festival is honored to present the fifth annual KIRK DOUGLAS AWARD FOR EXCELLENCE IN FILM to the legendary Academy Award-nominated actor/producer Harrison Ford…

"I'm delighted to give this award to Harrison Ford," commented Kirk Douglas. "It's always a pleasure to honor these young actors who do so well."

Ford's impressive body of work contains 43 feature films, 12 of which have each grossed over $100 million, as well as an Academy Award nomination for Best Actor.

Ford's upcoming film Morning Glory is slated to be released November 12, 2010. Set in the hilarious and dysfunctional world of morning television, Ford plays legendary TV anchor Mike Pomeroy, who is brought on to save a failing news show where he comes into conflict with his co-anchor Colleen Peck (Diane Keaton). Ford will also star alongside Daniel Craig in the upcoming film Cowboys and Aliens, directed by Jon Favreau.
[Photo: Top News]