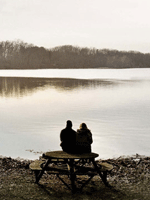 I've been meaning to write about "Conviction" since I saw it last week and just haven't really settled on a way to gather my thoughts.  In a nutshell, I liked it.  Quite a lot, actually.  It's not rousing or inspiring to the point that I had to write immediately (obviously), but it's relatively harmless and generally quite agreeable.
That sounds like damning with faint praise I imagine but I was kind of a mess watching it.  All the emotional beats hit me just right.  I'll admit I got a bit teary-eyed at the sustained chemistry between Hilary Swank and Sam Rockwell, who portray loving siblings with a level of authenticity and complexity that's difficult to pinpoint.  The script never feels manipulative even though its painting in extremely familiar dramatic strokes.
Rockwell has received most of the praise so far and he deserves it.  Interestingly enough, though, he doesn't bring anything more than he has for the last 10 or 15 years in film after film.  He's always good for better than solid and here he's just finally getting his due.  He's one of a precious few actors who sells it perfectly each and every time out.  You just buy him in whatever the role.
I was also surprised at how relatively easy Swank made it look.  She's become a punching bag as of late but beyond truly awful work in "Amelia," I'll admit to never understanding the hate.  I guess it's the second Oscar that did it for most.  In any case, she's great here and nails the, well, conviction.
Someone else worth mentioning is Minnie Driver as the supportive friend of a certain age, also putting herself through law school.  She sports just the right balance of tough love and kind empathy that keeps the film safe and warm throughout.  And though Juliette Lewis has one major scene (with a second disposable moment in a courtroom setting), she blasts it out of the park.  Some might think it's histrionic but I thought she killed.
Yeah, this isn't ambitious work by any stretch, but it is an effort for Tony Goldwyn to be proud of, I think.  I would have liked something about the unfortunate twist of fate that met Kenneth Waters just a few weeks after he was freed (which I'm told was shot but, understandably, tested poorly with audiences).  That might have been an opportunity for deeper thematic reach rather than the saccharine-doused denouement, but again, the film works perfectly well.
What else to say but that?  As far as Oscars, Rockwell is probably still good for a nomination, but I feel like a concerted push could get quite a bit more.  It's as baity as you probably imagine it to be but not offensively so, by any means.  It's a soft lob, but I say thumbs up.  (Do I owe Roger Ebert money now?)
[Photo: Fox Searchlight Pictures]