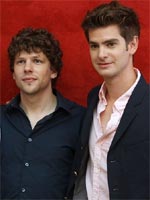 As much as the film ticks certain prestige-film boxes — hell, it's a socially conscious biopic from a respected, Oscar-nominated filmmaker — I still find myself doing something of a double-take when I hear "The Social Network" referred to as the Best Picture contender to beat. When was the last time a film so steeped in contemporary youth culture found itself in that position? (And no, "Slumdog Millionaire" does not count.)
Complementing the film's preoccupation with a relatively recent chapter of pop culture is a bold stroke of new-generation casting: its three male principals are all under 30, and not yet tapped by the wand of major movie stardom.
The long-ubiquitous Justin Timberlake aside, it's not hard to imagine some older Academy members puzzling over their screeners: "Who are these kids?" (Then again, those same folks might also be wondering what the hell Facebook is. It's only mental scenes like this that give me pause when considering its awards prospects.)
For those who have been keeping up, however, it's gratifying indeed to see these actors coming to cross-media prominence — particularly Jesse Eisenberg and Andrew Garfield, who have been asserting themselves as two of their generation's finest for a few years now. Eisenberg's game contributions to last year's alphabetically balanced double-bill of "Adventureland" and "Zombieland" had already given him some mainstream cred, but many audiences will only now be making the acquaintance of Peter-Parker-in-waiting Garfield, whose best work to date has been in the British TV projects "Boy A" (for which we won a BAFTA) and "Red Riding." (Seek them out.)
The LA Times posted twin profiles of the actors over the weekend, and interestingly, it emerges that Garfield was initially considered for the role of Mark Zuckerberg, but was rejected after David Fincher found him too emotionally accessible an actor to convey Zuckerberg's social autism. The role of Eduardo Saverin, Zuckerberg's wounded ex-collaborator, was deemed more suitable, and Garfield claims to be happier playing the sidelined half of what he describes as a "Cain and Abel" partnership:
[I]n terms of doing some kind of mimicry performance, it didn't feel necessary or important … Jesse might have had a slightly different deal because people are more aware of Mark Zuckerberg's physicality, his mannerisms … No one knows who Eduardo Saverin is, and I don't either. Of course, the fact he's a real-life human being, breathing on this Earth somewhere, creates a whole new dimension to my approach because you feel a greater sense of responsibility. But not that much greater because [for] any character you feel a sense of responsibility as if they were a real person.
Eisenberg addresses a similar issue, but didn't feel hemmed in by playing the more recognizable (if hardly household-name-level) personality — his freedom of interpretation assisted by the fact that he couldn't meet with Zuckerberg himself:
"I was hoping to meet him. To me, that was the first thing to do, playing somebody who's not only alive, but contemporary," Eisenberg said. "And that was an impossibility" … With only a month to prepare, Eisenberg went to Plan B: He culled images and videos of Zuckerberg. He made an audio file with excerpts of Zuckerberg's interviews and speeches and put them on his iPod, listening constantly to get into the character's mind-set. He knew Zuckerberg was an expert fencer with "unnaturally straight" posture, so he took lessons to work on isolating the upper half of his body.

"It wasn't important to us that Jesse do an impersonation of Mark Zuckerberg," Sorkin said in an e-mail. "Jesse came to work knowing the scene he had to do that day, and how he prepared — whether it was listening to Mark's voice, fencing or standing on his head — was entirely up to him."
Considering the Academy's perennial fondness for scholarly physical mimicry, it'll be interesting to see how the actors' branch takes to a more intuitive class of biopic performance. Moreover, it'll be interesting to see how much room they're willing to make on their ballots for Generation Y actors — not usually their favorite demographic.
[Photo: Glamour Magazine UK]