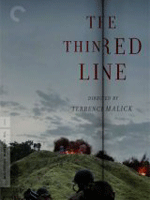 If you're sitting there right now, reading these words, killing time, nothing much to do this afternoon, do yourself a favor — go out and buy the new Criterion Blu-ray release of Terrence Malick's "The Thin Red Line."
I've been delighting in this top 10 all-timer all week, probably my most anticipated home video release since, oh, "Batman" hit VHS during the holidays in 1989?  Naturally, there is no on-screen involvement from Malick, but there is plenty to explore.
First, let's start with the film itself.  John Toll's gorgeous, mesmerizing photography pops with crystal clarity as, finally, his work on the film gets the treatment it deserves.  The sound is also striking (though let me know if I'm the only one who notices it pop in suddenly over the title screen), the mix of elements and Hans Zimmer's score truly immersive.
The extras, though, are like a candy shop.  There is a lot of attention placed on the actors, as well there should be.  "The Thin Red Line" boasted a roll call of players stunning even to this day.  Sure, there are a number of A-listers peppered here and there (and plenty left on the cutting room floor, too), but then there are guys like Thomas Jane, Kirk Acevedo, Adrien Brody, Jared Leto, Nick Stahl and John C. Reilly who were really beginning to pop out around this time.
It's wonderful to hear from a number of these, as well as Sean Penn, Elias Koteas, Dash Mihok and Jim Caviezel in a supplement that rounds up their reflective thoughts on the piece and their time with Malick.  Additionally, a casting featurette with casting director Dianne Crittenden, who worked for over a year at putting the ensemble together.  She gives so many insights into the various characters and what she was looking for, while a generous amount of audition footage is scattered throughout.
The film's first cut was five hours long (and God knows I'd love to see THAT), but it was whittled down to 170 minutes from over a million feet of footage.  That says a lot for the work Leslie Jones, Saar Klein and Billy Weber put into the film at the Avid, so of course, a featurette on the editing was a must.  It reveals Malick's process by proxy and is a fascinating 28 minutes on the disc.
While we don't (nor, I imagine, will we ever) get to see a substantial amount of that cutting room floor footage, we do get eight outtakes from the film.  These include an extended scene between Reilly and Caviezel, another between Ben Chaplin and George Clooney, a stirring sequence that illuminates Stahl's otherwise fleeting character considerably, some of Brody's nixed footage and, most intriguing, a moment with Mickey Rourke offering up a character I'd have loved to have seen expanded.
Hans Zimmer's best work to date is probably the floating melodies of this film, so it's nice to have an 18-minute interview with the composer.  Additionally there is an interview with Kaylie Jones, daughter of the novel's author, James Jones, as well as archival newsreel footage on the Battle of Guadalcanal.  Finally, Melanesian chants (some of which, you'll remember, feature prominently in the film) are offered up with photo accompaniment.
It's a really handsome package, to say the least.  I really, really wish we could have had more of Rourke's character here.  In fact, I wish he could have featured considerably in the narrative we eventually got.  And I'll try not to hold my breath for that five hour cut one of these days.  But as a die hard supporter of this film since that day in December of 1998 when I walked out of a Charlotte multiplex, I couldn't have asked for much more from this release.  A big thank you to Criterion for finally putting it together.