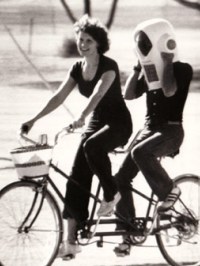 Catch up with the idea behind this series here.
After I saw "Apocalypse Now," I thought to myself that it was a much, much better movie than "Kramer vs. Kramer." A quick glance at the internets revealed that the Academy of Motion Picture Arts and Sciences had already determined that "Kramer vs. Kramer" was in fact, the better film. How could I be so wrong? Oh well, can't argue with those arts and sciences people.
That same bunch nominated Edouard Molinaro as Best Director, for a foreign film about a gay couple no less. Who says the Academy isn't progressive? They also awarded Meryl Streep her first Oscar on her second attempt, clearly worried that there may never be another chance to honor her.
Family drama continued to dominate as the 1980's rolled around when "Ordinary People" scooped the top prizes for Robert Redford. Poor old Marty Scorsese sentiment began right around then, but it should be noted that it was kind of his fault that the ceremony was delayed a day, after "Taxi Driver" obsessed John Hinckley Jr. tried to assassinate Ronald Reagan for Jodie Foster. Take it away, Johnny Carson!
Miss Piggy: Jonathan, you saw "The Muppet Movie." Can you stand there, in your rented tuxedo, and tell me that I am not Oscar material?
Johnny Carson: Oscar Mayer maybe.
1979 – "Real Life" (Albert Brooks)
I'm not sure what exactly keeps this film on the fringes but it's meager 857 votes on IMDb suggest that it remains a little seen classic. Perhaps it was so ahead of its time that it baffled the public more than amused it, but now is the perfect time to see and appreciate Albert Brooks's razor sharp debut. This is a film that came nineteen years before "The Truman Show," which itself was considered prescient. It was also five years before "This is Spinal Tap," which largely gets the credit for inventing the mockumentary. All this is to say that Brooks was a trailblazing and original comic genius from the beginning (an adjective fitting for a man who was born with the name Albert Einstein).
Trivia hounds may already know that Lorne Michaels's original conception of "Saturday Night Live" was to feature Albert Brooks as the host for every episode, but he backed out and suggested they use a different person every week. Instead, he had a pre-filmed short segment in each episode of Season 1 that served as a practice ground for his unique style. Talking directly to the camera, ridiculous scientific centers and research to back up his absurd ideas, deadpan delivery, etc. It was a coincidence that I watched them all shortly before discovering "Real Life," and the similarities were striking. But outside of his own work on "SNL," I can safely say that there was no precedent for this type of film in the multiplex.
Brooks plays himself, director of a film that is trying to eliminate all artifice and capture a real American family going about their daily lives. Any hint of staging or bravado for the camera's benefit is strictly discouraged, but of course, the intrusion of Brooks and his cameras eventually leads to the family's downfall. Charles Grodin is perfectly cast as the Everyman, a small town veteranarian, and it was a bit of a gamble casting a recognizable face in the role, but of course Grodin melts away into the character. The scene where he operates on a horse and his subsequent meeting with Brooks are pure gold.
There's plenty of room for Brooks to poke fun of the Hollywood studio system, the relationship between technology and convenience, the nuclear family and most importantly, himself. In fact, if there's one flaw to the film, it's that Brooks sometimes focuses the film too much on himself and not his other characters. He's an able performer obviously, (and a later Oscar nominee for "Broadcast News") but too much comedic self-flagellation can circle back to narcissism. Luckily, the film never dwells in the same spot too long and consistently surprises until a showstopping finish.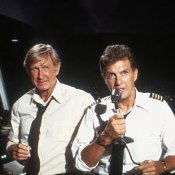 1980 – "Airplane!" (Jim Abrahams, David Zucker, Jerry Zucker)
The directing team of Zucker, Abrahams and Zucker (ZAZ) had already dabbled in irreverence and rapid fire pop culture referencing with "The Kentucky Fried Movie," but applying it to a defined narrative and viciously skewering the cliches of popular movies, they gave birth to a new genre of film and maybe, the funniest movie of all time.
In preparation for writing this column, I rewatched the trailer and I swear I laughed more in the three minutes than during most feature length comedies released today. Every single joke kills! There's not much to talk about other than how hilarious the movie is, but there is one key component that sets the bar. The casting of Lloyd Bridges, Leslie Nielsen, Robert Stack and Peter Graves is truly inspired. Not a comedian in the bunch, just a collection of great actors willing to play it straight no matter the cost. Of course, it's hard to imagine a spoof now without Leslie Nielsen.
The problem with spoof films today, ranging from the deplorable Friedberg/Seltzer movies to the slightly less deplorable "Scary Movie" franchise, is that they are content with recognition being 100% of the joke. Specific scenes from popular films are copied down to the letter, minus one or two riffs. "Airplane!," "The Naked Gun" and "Top Secret!" are operating on a much different mindset. Conventions are the victims of their satire, not scenes. A much closer kin amongst contemporary cinema would actually be "Team America: World Police" in my opinion.
Anyway, no need to get too philosophical about "Airplane!" It's hilarious. It's dumb. But really, it's smart.
Those are my picks. What do you guys think?
[Photo: Rent That Shit]
[Photo: Metro]