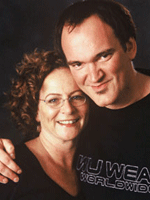 This is just the most awful news to wake up to.  Truly tragic, a blow right from left field.
Film editor Sally Menke, long-time friend and collaborator with Quentin Tarantino who helped craft his films into some of the most memorable pieces of cinema ever, has passed away today at the far-too-young age of 56.  Menke was hiking yesterday in Griffith Park.  Her body was found around 2:15 am this morning and though a cause of death has not been confirmed, it appears yesterday's record-breaking heat wave (temperatures got up to 113 degrees in downtown) could be the culprit.
This is just terrible, but (and again, the heat isn't a confirmed factor yet), it raises a truly serious issue.  Take care of yourself in this kind of weather.  A talented contributor to the art form that makes everyone reading these words tick is gone and for what?
The "hi Sallys" from Tarantino's latest, "Inglourious Basterds":
And from "Death Proof":
Tarantino talks Menke's importance in his work:
[Photo: Editor Under Construction]