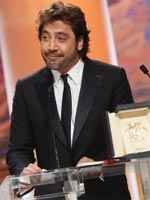 Following Mexico's submission of "Biutiful" to the Academy yesterday, I wrote that I'm sceptical about the film's chances of nabbing a Best Foreign Language Film nod — but if Roadside Attractions really put some welly into their campaign, a Best Actor nomination for Javier Bardem is looking quite conceivable.
As a contender, the performance comes with some obvious handicaps. The actors' branch can be resistant to foreign-language work at the best of times — not least in the Best Actor category, where no non-English performance has been nominated since Roberto Benigni's 1998 win — and the grim, oblique film won't be to the taste of many voters.
(It's interesting that Roadside face a similar challenge, minus the language barrier, to secure a nod for their Best Actress hopeful Jennifer Lawrence. They certainly haven't picked the cuddliest of ponies.)
But Bardem is, of course, firmly in the Oscar club, and whereas the film continues to divide opinion, critics have been generally united on the merits of his contribution to it since Cannes — where he shared the Best Actor prize with Elio Germano. I'm less keen: the performance itself is typically committed and intelligent, but at the service of an overegged martyr of a character.
Still, even if I think his Oscar-nominated breakthrough role in "Before Night Falls" a decade (!) ago Bardem him more notes to play, many voices in the press are declaring "Biutiful" a career peak for the actor — and chances are some awards voters will agree. Helping matters is that Bardem is passionate about the film and willing to play the publicity game for it; I love this extract from his fortnight-old Esquire interview:
He said that he didn't feel much need to talk about Eat Pray Love — "It doesn't need any help," he said — but that he would like to talk about Biutiful. "I think it's a masterpiece," he said, "and it needs help."
He goes on to explain how a viewing of Alejandro González Iñárritu's sophomore feature "21 Grams" drew him to collaborate with the filmmaker:
"I remember, I almost got hit by a car walking out after," he says. "I was so moved by it. I wasn't right for a week." So Bardem was eager when he was offered the lead role in Biutiful. "They are only movies," he says, "but I want to make movies that count for something."

"I think [Biutiful] is a very powerful movie," Bardem says. "I would like you to see it. I hope it makes you cry."
Indeed, the film does have that very effect on a sizable portion of viewers; those who respond to it seem to respond very emotively indeed — if enough Academy members get sufficiently teary, the straggling likes of Robert Duvall may want to watch their heels. Read the rest of the Esquire piece here.
[Photo: Access Hollywood]