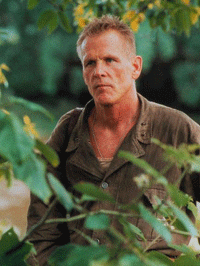 I received an email today from a reader addressing a concern I've long had at the back of my mind, but I never really figured out a way to deal with it. In a nutshell, we discuss films early, generally before release around these parts, and when a large majority of you get a chance to have a look, the conversation ship has sailed.
I don't want that, obviously, and I imagine it's difficult to find a place to re-inject the talking points with our day-to-day topics running full speed, so I figured the best way to deal with it would be a general discussion post every weekend for you to cut loose about what you might have seen or what you'd like to discuss amongst yourselves.
It's a no-brainer, really, but I just never got around to actually, you know, doing it.
So we'll call it "Cinejabber" (I guess) and I'll kick start the conversation this week, in case no one has any ideas (though I imagine there are those who'd like to discuss any number of films finally in release).
Reading Sasha Stone's recent "hold your horses" item about the comparisons to "Citizen Kane" surrounding "The Social Network," she noted peripherally, "When 'Inception' came out and was hailed as 'masterpiece' it angered critics, and viewers, that anyone would dare use a word like that to describe a big studio movie out of Warner Bros. Or maybe it was that the word shouldn't really be applied to a film until a decade or so has gone by."
It got me thinking about that word, which is really JUST a word at the end of the day. But I'm generally pretty careful about how I apply it because it's a pretty solid definitive. It's why I go with a four-star scale rather than five, because I feel like the latter gets into definitive considerations (to say nothing of the WTF 1-100 scale), whereas I'd prefer there to be larger gray areas. But if I were honestly asked how many masterpieces I'd seen in the last decade, I would say only two, the top two films on my best of the decade column, natch.
A masterpiece, to me, is another level and shouldn't be tossed around lightly (and certainly not to make one feel better about a high opinion of a film, which is, I think, often the case). But what do you think? Should there be a time consideration before calling a film "masterpiece?" Personally, I think it can be an instant judgment because at the end of the day, it's really just an opinion anyway. Granted, an opinion can mature and settle into different subtleties, but I tend to know whether I've seen something THAT powerful the moment I walk out of a theater. You just feel it.
Anyway, cut loose on that if you want or just address anything else you'd like to chat about with the community. Open thread. We'll do it every Saturday.
[Photo: 20th Century Fox]