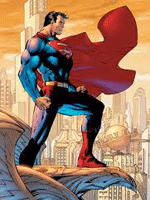 My RSS feed was absolutely stuffed to the brim with the clamoring re-reporting of the geek press's favorite story of the week yesterday: OMG! Christopher Nolan is meeting with a shortlist of potential "Superman" directors!
Except the list is all wrong. The names: Tony Scott, Matt Reeves, Jonathan Liebsman, Duncan Jones and Zack Snyder.  Now, I love Reeves and Jones (the two getting most people excited) as much as the next guy. But they don't feel thematically right for this material. And Superman boasts a scope that these directors, however talented on a smaller scale, have yet to prove capable of navigating.
Liebsman, meanwhile, is the intriguing up-and-comer pick, and though I haven't seen "Battle: Los Angeles," I feel like this is just a way to insert some in-house cross-promoting potential ("from the director of 'Clash of the Titans 2,'" you know?). And Snyder, well, I wouldn't be entirely against it, but I'd know from the start that it would be a stylistic divergence unsuitable to the character.
Scott is really the most interesting pick of the bunch, and if this were pre-frenetic filmmaking Scott (i.e. pre-"Enemy of the State"), I'd be all about it. I'd say the guy who copped Scott's early style would be a better pick…
That's right, Michael Bay (who has been on this shortlist in the past). Say what you want about the guy, I think his sense of scope and the Americana that has found its way into stuff like "Armageddon" and "Pearl Harbor" would work wonderfully for this character. After all, if it's a great script, it should be clear sailing.  Let's start there for a change.
Not working for you? Okay, how about dusting off Kerry Conran and his brother's career, suiting them back up for a throwback style that would be incredibly unique for the character?
Still not working? Alright, a few other ideas:
Ben Affleck. No, seriously. He proved with "The Town" that he can handle action just fine and he's quite serious as a filmmaker these days. We all know it's about "what have you done for me lately," after all.
Philip Noyce. I think it's clear with Tony Scott's presence on the list that all involved are looking to outside-the-box people along the lines of Joe Johnston, Kenneth Branagh, Gavin Hood and Martin Campbell, each tackling their own superhero franchises as of late. This would lack stylistic flourishes but it would be a controlled auctioneer from a seasoned helmet.
J.J. Abrams. He's probably over the Man of Steel at this point (following screenplay involvement years ago). But is there any doubt he wouldn't nail it?
Roland Emmerich. You want scope? I got yer scope.
Those are just a few off the top of my head, but any of them would be a better choice, in this humble geek viewer's opinion, than the handful Nolan is combing over at this very moment.
What say you? And while we're at it, let's dust off the sidebar poll. Vote on which of the shortlist you'd rather see tackle the Son of Krypton.
[Photo: DC Comics]