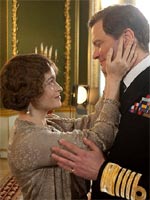 • At Toronto, "The King's Speech" scooped the Audience Award, recently a harbinger of Oscar success. (Days later, a trailer landed.)
• This week's Off the Carpet pondered the film's rosy awards outlook, but also warned of the fickle nature of frontrunner status.
• Guy's seasonal Oscar column, The Long Shot, kicked off with a reminder to put the movies first. (He also tested the waters with some predictions.)
• Following an unexpected display of box office muscle from "The Town," we wondered how far it can go in the Oscar race.
• With Oliver Stone's "Wall Street: Money Never Sleeps" looking to make its own box office charge, Kris voiced his dismay with the film.
• Submissions for the foreign-language Oscar continued to roll in, with France, Denmark and Israel among the new entries. (Keep track with our ongoing submissions list.)
• We picked through the list of rumored directors for the "Superman" reboot, adding a few names of our own.
• An Oscar nomination for Mel Gibson in "The Beaver?" We think not.
• Kris and Anne rounded up all this week's (and last week's) developments in our Oscar Talk podcast.
• Finally, Chad continued to remind us why none of this really matters, revisiting some of the greatest un-Oscared films of the late 1970s.
[Photo: The Weinstein Company]