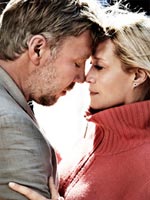 One week from the deadline and the Best Foreign Language Film submissions are coming in thick and fast — our updated list currently boasts 44 titles. The number of those titles I've actually seen is, regrettably, still in the single digits, but it does include one of today's arrivals to the race, India's "Peepli Live" — which coincidentally also opens in the UK today.
I'd like to say supportive things about Anusha Rizvi's well-intentioned but controversial media satire, which premiered in competition on Sundance and has been warmly received on the festival circuit, but I'm afraid I found it a pretty listless affair: the film takes on the potentially rich dramatic subject of farmers committing suicide to gain government aid for their families, but veers crudely between action and subtext without balancing them at once.
Despite a vast film industry, India has accrued a scant three nominations in this category; though respect for "Peepli Live" is widespread, I somehow sense a fourth isn't on the cards.
A more likely nominee on paper is Denmark. After a brief golden period in the late 1980s (back-to-back wins from three consecutive nominations), the country has struggled to regain its grip on the race, scoring only one nod in 20 years. That came in 2006 for Susanne Bier's well-regarded melodrama "After the Wedding," so it comes as no surprise that the Danes have turned to Bier again this year.
"In a Better World," which premiered internationally at Toronto last week, is actually Bier's first Danish feature since that Oscar success, following her indifferently received 2007 U.S. venture, "Things We Lost in the Fire." That, combined with last year's starry Hollywood remake of Bier's breakthrough feature "Brothers," should make her one of the most recognizable names in the running.
The film, a domestic drama using the friendship between two schoolboys, and the subsequent entwining of their families, as the basis for an essay on pacifism and retribution, has been generously reviewed thus far, and appears to play to Bier's humanistic strengths. U.S. rights have been snapped up by — surprise, surprise — Sony Pictures Classics, who are looking to own this foreign-language race as emphatically as they did last year's. Bier's filmmaking tends to be a little tidy for my tastes — she puts me in mind of a high-end Paul Haggis — but it's right up the Academy's street. I predicted a nomination for this before it was officially entered, and I'm sticking to my guns.
Other countries that have submitted contenders in the last day or two include Afghanistan ("Black Tulip"), Albania ("East, West, East"), Bangladesh ("Third Person Singular Number"), Latvia ("Hong Kong Confidential"), the Philippines ("Noy"), Serbia ("Besa") and Brazil ("Lula, Son of Brazil"). My knowledge of all these is limited, though I have gathered that the Brazilian entry — an expensive biopic of the country's current president that appears to star the love child of Fabio and The Rock — hasn't been enthusiastically greeted by local industry-watchers. As always, chip in with any perspective you may have.
[Photo: Sony Pictures Classics]