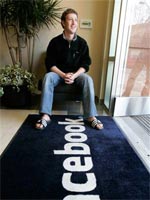 The official line may be that beleaguered Facebook founder Mark Zuckerberg isn't really on board with "The Social Network" — even if the Twitterverse yesterday was abuzz with rumors that he attended a screening in his Sunday best — but whatever his attitude to David Fincher's film about his rise to fortune, the 26 year-old billionaire is certainly helping out in the publicity stakes.
The New York Times reports that Zuckerberg will appear on "The Oprah Winfrey Show" tomorrow to announce a $100 million donation to the Newark public schools system:
The $100 million for Newark is the initial gift to start a foundation for education financed by Mr. Zuckerberg. This would be by far the largest publicly known gift by Mr. Zuckerberg, whose fortune Forbes magazine estimated last year at $2 billion … The gift is many times larger than any the system has received, officials said — an extraordinary sum not only for a district with an $800 million annual operating budget, but also for any publicly financed government agency. It is not yet clear how the money would be used, or over what period.
Of course, the news has nothing ostensibly to do with "The Social Network," but it's a handy coincidence that Zuckerberg should choose to make this highly public act of charity one week ahead of the release of a film that may not cast him in the most generous light (and the day it opens the New York Film Festival). He gets to preemptively defend his character, the film gets a bump from its subject's exposure on America's highest-rated talk show, and public education gets a big fat check. If that isn't the very definition of "win-win," I don't know what is.
Meanwhile, while we're reading the Gray Lady, Manohla Dargis has added a chunky rave review to the film's enviable valentine collection, underlining its status as the critical darling of autumn thus far. Over at Gold Derby, Tom O'Neil provocatively asks if "The Social Network" already has this Best Picture race licked. (He also suggests — unwisely, I think — that Natalie Portman and Colin Firth could have their Oscars in the bag too.) The short answer is no, but the film is making all the right moves so far.
[Photo: Your Hidden Potential]