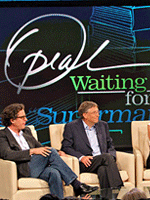 I offered up my thoughts on Davis Guggenheim's "Waiting for Superman" back when the film played the Los Angeles Film Festival in June.  My position is that the film, however emotional, doesn't necessarily tell us anything we don't already know and plays loose and fast with facts in order to slightly sensationalize the issue.
All of that said, if it's not quite there as a piece of art, it is extremely successful and commendable as a piece of activism.  And who in their right mind would argue with its message?
The film opens in limited release tomorrow and got a big boost from Oprah Winfrey earlier this week when she brought Guggenheim, D.C. school district chancellor Michelle Rhee (who features prominently in the film) and recent tag-along Bill Gates onto the show to spread the message to an obviously gigantic audience in her farewell season.  (Interestingly enough, Facebook creator Mark Zuckerberg will announce his intentions to donate $100 million to New Jersey public schools on tomorrow's show — talk about image spin/control.)
Check out a clip from the episode after the jump (Oprah at her giveaway best) and do try to see the film when it comes your way.
[Photo: Oprah.com]