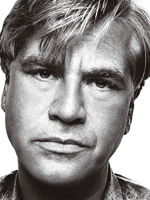 Boy, the publicity machine is well-oiled around "The Social Network." After profiles of Mark Zuckerberg (rumored to have been at a screening of the film last night), Sean Parker and a giant spread in New York Magazine, Aaron Sorkin gets his moment in the sun, alone, in this major W Magazine piece.
It's a fascinating portrait of a writer, really digging into who this guy is, his process, his addictions, his hang-ups.  Most fascinating, perhaps, is what he has to say about his Los Angeles home, which he says feels more like a hotel room and isn't really his style, but he'd rather not appear to be a poser trying to live in Westchester.  Really vibrant characterization from the always on-it Lora Hirschberg.
Like I said when I offered up my thoughts on the film, Sorkin is the real star of this show.  I expect he might be holding his fair share of trophies by season's end.
A great quote illuminating Sorkin's process:
First scenes are superimportant to me…I'll spend months and months pacing and climbing the walls trying to come up with the first scene. I drive for hours on the freeway. I'm not a germaphobe, but I take six showers a day to get a burst of energy. Especially if things are not going well, I get in the shower and get wet, and get into different clothes and try again. The shower and the car are the two big thinking places for me. For The Social Network, I wanted to imagine the scene with the girl that led to that [vengeful] blog entry. I wanted to have that be the last straw. The girl saying no, the drinking, the blogging, the hacking, the creation of Facemash, all in one night. And then, after that scene, go to the end of the story—the depositions that happened when everything curdled.
And believe me, you REALLY get to know Sorkin: crack and cocaine addiction, rehab, arrest, you name it.  Give it a read here.
"The Social Network" opens the New York Film Festival Friday, September 24 and hits theaters nationwide October 1.
[Photo: W Magazine]