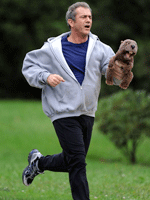 Someone stop me if I'm out to lunch here, but is it not absolutely ludicrous to think that Mel Gibson would have a shot at a Best Actor nomination in this or any other universe in a year where the star is as plagued with controversy as he is in 2010?
Look, I'm all for forgiveness and "kumbaya."  And I really couldn't care less about Gibson's domestic issues.  So this isn't a personal perspective or anything, but you're talking about a guy thought to be anti-Semitic in a community with, well, its fair share of Jews, who happened to rock out the biggest public embarrassment any star has seen since, I don't know, the LAST time Gibson went on ranting and raving?  I love that Jodie Foster is sticking by her friend (noted in today's round-up), as she should, but seriously, does anyone legitimately think Hollywood wants this kind of situation representing the community in the form of a BEST ACTOR NOMINATION?
Well, that's not stopping the gears from turning.  Pete Hammond, God love him, is looking for the silver lining like he's looking for a positive word to say about the latest "Resident Evil" film over at Deadline.
To wit:
…the even bigger question is whether, after all his public travails, Mel Gibson could suddenly become a serious contender for a Best Actor Oscar nomination via a late-breaking qualifying run before the end of the year?

Three different sources who have seen the film and have a connection to it (none in a production capacity) all told me virtually the same thing: Gibson is "extraordinary". One person said, "he gives an incredible performance. If you can forget what happened, and I didn't have tabloid images racing through my mind watching him, it's really something. I still don't want to be his friend but he's great in this." Another told me today, "I don't bullshit about these things. He's amazing."
I don't doubt it.  He's always been a fantastic actor and it makes sense that he'd deliver an awards-worthy performance.  But, but…I can't be alone here.
Nikki Finke, meanwhile, writes up a piece today noting that Summit's reluctance to release the film is puzzling.  Granted, I'm with her.  The film could open and make money, perhaps even more with the rubbernecking set filing in.  But thinking the film can make money and thinking Gibson can nail down an Oscar nomination are two entirely different things.  And carting out Roman Polanski, Woody Allen and Elia Kazan as examples of Hollywood forgiveness just doesn't cut it.  They're not on record as saying "the Jews are responsible for all the wars of the world" or, if his clearly opportunistic wife is to be trusted, "I want Jew blood on my hands."  I'm just saying it's a tough sell, to put it mildly.
And sure, there are those who have said some things about the Jewish community that certainly hit a tender spot — Oliver Stone, Jane Fonda, Vanessa Redgrave.  But I think it's stretching to call it the same territory.
Bottom line, I can't wait to see "The Beaver" and Gibson's clearly exceptional performance.  And while I might think it's insane to throw around Oscar buzz here (I'd be happy to eat crow in a few months' time), I don't want to get in the way of any campaigns or shoot anything down before it's had a chance to take flight.  But my job is to suss out this kind of stuff and see what smells right.  And this..it's just…crazy, right?
Right?
[Photo: Summit Entertainment]