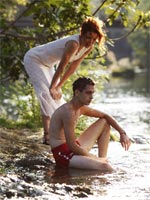 I know a couple of you have been curious about what Israel submits as its Best Foreign Language Film contender, given that the country been on something of an Oscar hot streak of late — securing nominations in each of the last three races, though the country remains the most-nominated in the category's history never to have taken the gold. (Zero from nine, for those keeping score.)
As usual, the country has automatically entered the top winner at its national film awards ceremony, the Ophirs, which took place last night. Most pundits saw this as a slam-dunk for "Intimate Grammar," a high-prestige literary adaptation that led the race with 12 nods.
However, in a sizable upset, it was bested by Eran Riklis's "The Human Resources Manager," a gentle, character-centered dramedy about a bakery personnel officer tasked with shipping the body of a foreign employee back to her native Romania. (Thanks to reader Cameron McAllister for the tip.)
The awkwardly titled film received mixed reviews upon its premiere at last month's Locarno Film Festival, with some critics declaring it a step down from Riklis's excellent previous feature, "Lemon Tree." It should be noted that, while "The Human Resources Manager" reportedly touches on suicide bombing and cultural discord, Israel's recent trio of Oscar nominees — "Beaufort," "Waltz With Bashir" and "Ajami" — were more assertively political works, which might have factored into their success with the Academy.
Moving on, the foreign-language race has now welcomed its first former champ: Danis Tanovic, whose "No Man's Land" memorably upset "Amélie" in 2001, has once more been tapped as Bosnia and Herzegovina's entrant. His latest, "Cirkus Columbia," recently bowed at Venice and went on to play Toronto; set in pre-war rural Bosnia, it charts the misfortunes of a broken family as a foreshadowing of the hardships to come.
I regret to say I missed it on the Lido, but critical consensus appears to be that it's a successful, if unremarkable, return to the milieu of Tanovic's Oscar-winning debut, following a pair of less well-received international ventures. Perhaps Academy voters will be similarly welcoming; Tanovic has supplied the country with its only nomination in nine attempts.
Other films to have entered the race since my last update include Bulgaria ("Eastern Plays"), Egypt ("Messages From the Sea"), Iran ("Farewell Baghdad"), Macedonia ("Mothers" — from director Milcho Manchevski, whose debut "Before the Rain" garnered the country its sole nomination to date in 1994) and Norway ("Angel"). That brings the tally to 34; check out our updated list of submissions here.
Incidentally, I've been informed that we may hear news of Mexico's submission later today — of interest principally to see if they submit Alejandro González Iñárritu's divisive "Biutiful." (Why do I have a weird hunch they won't?)
[Photo: TIFFr.com]