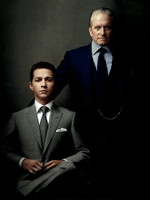 It's taken me some time to get around to writing about Oliver Stone's "Wall Street: Money Never Sleeps" because watching the film was like have your bubble burst (no pun intended).  Where the director's 1987 original worked from a tight, disciplined script that never took its eye off the ball, this follow-up is a loose, less refined piece of work with a forehead-smackingly bad ending.
Also, due respect to Rodrigo Prieto (one of the best lensers working in the business), I feel there is something lost without Robert Richardson's hand behind the camera.  The lenser hasn't worked with Stone since 1997's "U Turn," but he gave the original film a palpable energy (as he does any film he shoots, whether it's for Stone, Scorsese or Tarantino).  The energy on screen in the sequel is cooked up, awkward, false.  There's an obsession with quirky transitions and visual flourishes (which comes to a head in an over-bearing closing credits sequence) that Stone can't seem to relinquish.
Then there are the characters.  Perhaps the worst thing you could do is watch "Wall Street" in advance of "Money Never Sleeps," because whoever Michael Douglas is tackling on the screen this time, it's not Gordon Gekko, and it shows.  Sure he's a smart guy who can rattle off stock exchange info and wise cracks left and right, and yeah he's been in jail for years at the start of the film, but this isn't the same game.  He doesn't have the same swagger.  The attitude feels phony.  The performance is fine in and of itself, but it feels like a different character.  I don't know how to better describe it than that.
LaBeouf (who recently talked his preparations with Arts Beat in Toronto) is actually quite good as a young buck broker engaged to Gekko's daughter (played capably by Carey Mulligan), and his story really is up to par with Bud Fox's loss of innocence.  But it somehow never gets there.  Maybe that has something to do with Josh Brolin, playing something of a Gekko of the times, who doesn't have the bite you really want him to have.  Nothing ever really feels at stake because the green energy company LaBeouf's crusader is looking to buttress with investment capital always feels at arm's reach.  Seriously, the bulk of interaction between the two is telephone conversations.  The immediacy is sucked out of the drama, but Stone tries his hardest to manifest it where he can.
And when Bud Fox shows up, by the way (you knew it would happen), it's like a plate of Baby Swiss, Muenster and Pepper Jack: pure cheese.  There's so much the filmmakers could have done with that moment but an odd hold on Charlie Sheen (what, to make sure we know who we're looking at?) and a playful ribbing of his own playboy image is where they decided to take it.  A shame.
Oh, and one more thing.  I love David Byrne as much as the next guy.  But his songs in the film lean HEAVILY against the grain and stick out like a sore thumb throughout.  Again, the awkward energy of the film, it's a tough thing to quantify.  But it drags it down.
All of that said, the film does manage to nail (perhaps more dramatically than last time) the era it depicts (the film is set in 2008 at the time of the Wall Street tumble).  And the most rewarding moments, the ones that feel most authentic and less contrived, are the early scenes with Frank Langella.
For this viewer, though, none of it ever comes together in a satisfying way.  It's too bad because this is a key year for filmmaking about these issues.  The New York Times recently covered the number of documentaries taking aim at the Street this year and "Wall Street: Money Never Sleeps" couldn't have found a better time to hit.  But while it will probably prove entertaining and commercial to many, it lacks the precision of its predecessor and feels more like a sure thing gone south.
It's interesting.  I took another look at Ben Younger's 2000 debut "Boiler Room" this week in anticipation of this article and the raft of Wall Street films on the horizon.  There is a scene, you'll recall, where a number of the characters sit around a television and trade attempts at rattling off memorized Gordon Gekko dialogue from the first film.  It was a nice character touch indicating a generation raised on the Street through pop culture (they also quote "Glengarry Glen Ross").  But it only goes to show how much of an impact that film had, and how much of an afterthought its sequel seems to be.
"Wall Street: Money Never Sleeps" opens nationwide Friday, September 24.