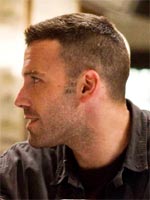 I'm not sure how I missed the memo, but in the past 48 hours, "The Town" apparently became an Oscar contender and nobody told me.
You may recall that when I posted my updated predictions on Sunday, I actually found room for Ben Affleck's popular sophomore feature in the Best Adapted Screenplay category. I thought that a relatively off-center guess at the time, but now others, emboldened by strong reviews and excellent box office for the straight-ahead thriller, are going much further.
Just yesterday, both Deadline's Pete Hammond and THR's Gregg Kilday bestowed the "O" word upon "The Town," with both reporters citing a wildly enthusiastic reception at the film's Academy screening on Saturday. (I always take such screening reports with a pinch of salt — a film can play well without inspiring reverence — but I'm just passing along the message.) Kilday goes on to suggest that Affleck could benefit from the Academy's noted fondness for heartthrob actors turned serious filmmakers.
Here's some of Hammond's gossip:
A 2-time Oscar winner who frequently attends these private weekend screenings for voting members told me, "There was big loud applause at the end credits — and that's something I rarely see at the Academy." He went on to praise the film as easily one of the best he has seen there in some time (and, interestingly, he's not impressed with much of the 2010 output so far). He singled out Affleck's direction and the acting ensemble for particular kudos. Two other Academy members who saw the film at non-Academy screenings told me the same thing.
Maybe so, maybe no. (Or, as my fellow South Africans would say, jawellnofine.) Given how it has exceeded both commercial and critical expectations thus far — even in my review, I anticipated that it would need more defense than it ended up requiring — "The Town" is clearly not a film that likes being underestimated. And it's the kind of rock-solid mainstream genre outing that AMPAS dreamed of including when they doubled the size of the Best Picture category, even if some of us could find more imaginative uses for those extra slots.
That said, I like "The Town" rather more than a couple of other studio titles that are being pegged as near-locks in the Best Picture race, so you won't hear me complaining if this kind of talk catches on. (Even more so if the talk extends to the film's terrific ensemble — Kilday mentions Jeremy Renner as a Best Supporting Actor possibility, but it's Jon Hamm I'd really like to see in play.)
But I still think people may be jumping the gun a little. The film had a terrific opening weekend at the box office, but we have yet to see how it holds. If it's still hanging around the upper rungs of the chart a month from now, there may be something there. As for the actor-director issue, it's worth noting that while the Academy looks kindly on thesps who take a supposed creative risk with their personal prestige projects — why hello, Kevin, Warren and George — there's less precedent for them honoring actors making meat-and-potatoes entertainment.
I sense "The Town" will need to become a smash, as opposed to a mere success, to remain in the conversation for another four months. Still, nice to have Ben Affleck — Academy Award-winning writer Ben Affleck, lest we forget — back in the mix.
[Photo: Warner Bros. Pictures]