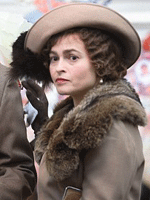 On the heels of last week's introductory announcement, it has been announced that Sam Rockwell, Helena Bonham Carter, Andrew Garfield and Mia Wasikowska will be recognized at this year's Hollywood Film Festival awards.  The press release, in part:
The 14th Annual Hollywood Film Festival and Hollywood Awards, presented by Starz, are pleased to announce honorees who will be recognized for their achievements at the festival's Hollywood Awards Gala Ceremony.

Academy Award-nominated actress Helena Bonham Carter will receive the "Hollywood Supporting Actress Award," actor Sam Rockwell will be honored with the " Hollywood Supporting Actor Award, " actress Mia Wasikowska will receive the " Hollywood Breakthrough Actress Award, " and actor Andrew Garfield will be recognized with the " Hollywood Breakthrough Actor Award. "

"These honorees have been steadily laying the groundwork of choice projects upon which to build their Hollywood careers, and this is their year to really stand out," said [founder Carlos] de Abreu.
Full list of awards recipients announced thus far after the jump.
Hollywood Supporting Actor Award
Sam Rockwell, "Conviction"
Hollywood Supporting Actress Award
Helena Bonham Carter, "The King's Speech"
Hollywood Breakthrough Actor Award
Andrew Garfield, "Never Let Me Go," "The Social Network"
Hollywood Breakthrough Actress Award
Mia Wasikowska, "Alice in Wonderlan," "The Kids are All Right"
Hollywood Animation Award
"Toy Story 3"
Hollywood Cinematographer Award
Wally Pfister, "Inception"
Hollywood Composer Award
Hans Zimmer, "Inception"
Hollywood Visual Effects Award
"Iron Man 2"