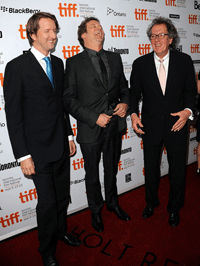 Tom Hooper's "The King's Speech" is on top of the world right now.  Telluride buzz was hot and it carried all the way through the Toronto International Film Festival to a coveted People's Choice award.  The race is already being boiled down in some quarters to this old school Academy play versus a Gen-Y instant classic opening in just under two weeks.  You couldn't ask for more if you were The Weinstein Company with this film as your prize pony…
…except maybe a season half as long as it actually is.  Hooper's film finds itself in a very precarious spot right now.  Just ask awards consultants at Paramount Pictures.
After coming out strong with the of-the-moment "Up in the Air" last season, taking the same Telluride-Toronto crowd-pleasing path, their film slowly boiled down to an also ran and even came up short in the one category it seemed assured going into the Academy Awards.
It's easy to peak early in an Oscar season.  It takes tactical endurance to really come out on the other side with something to show for yourself and "The King's Speech" is burning fuel fast and early.  But I imagine if anyone understands this it's Harvey Weinstein, who, if he does find himself in a battle with "The Social Network" for the big prize, will be going toe-to-toe with one of his former Miramax executives, Cynthia Swartz (who has overseen Best Picture marches for "Crash," "No Country for Old Men" and "The Hurt Locker" in recent years).
But I don't want to be too reductive this early in the season.  It's just September.  Strategies are frankly still being fortified.  And it's not fair to campaigns that haven't had a chance to really put their best foot forward yet.
For instance, Fox Searchlight has a healthy competitor in Danny Boyle's "127 Hours." The film has developed an unfortunate reputation for being a tough sit but most everyone who has seen it agrees that it is an emotional, poignant piece of work.  The term "life-affirming" has made its way so stealthily into the everyday written conversation on this one it almost seems skilfully planted, but it really is a solid way of describing the effort.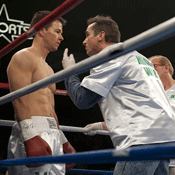 And what of "Toy Story 3," which I'm told will receive a top-flight, serious campaign?  It's easy to dismiss it as something the actors would never vote for but the logic on the other side is as sound if not more: biggest box office hit of the year, most critically acclaimed film of the year, the (apparent) swan song of a flagship franchise for one of the few studios that has found a consistent way of bringing in greenbacks.  It seems like the only film to encapsulate everything this industry is about.
Meanwhile, Paramount, perhaps still smarting from last season's trajectory, will be holding on to "The Fighter" until November, late-October at the earliest.  The trailer debuted last week and seemed to check off a number of cliche boxes for some, but it nevertheless reflects a high-gloss, prestigious sheen that makes you wonder if it will be a contender.  And the Coen brothers' "True Grit" will be the last film to screen for voting bodies and critics this season (late-November, so not quite as late as "Avatar" last year).  Who knows how potent that mixture will be?  (Though I'll go ahead and hazard this much: Roger Deakins will finally get his Oscar this year.)
No question, hats off to "The King's Speech" by commanding this early "lead," as it were.  And the film won't open to cries of, "Really?  This?"  It has the goods.  The wise move might be to pull back a bit now and let all the other contenders come out and play and make their case.  No need to chafe.  Before long, the November 26 release date will be here and there'll be plenty of time to rekindle the fire and keep it burning into phase two, where you really earn your stripes.
From here we launch headlong into the season, with festivals in New York and London still to come (though neither boasts considerable debuts at this point).  Strange that it feels we've done so much, yet it's only just begun.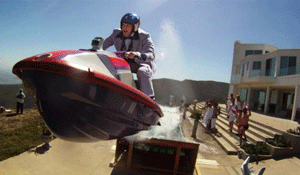 Next month "The Social Network," "Secretariat," "Conviction," "Hereafter" and sleeper possibility "Jackass 3D" all release, each of them looking for room to navigate this season.  Will the founding of Facebook strike interest in the public?  Will the heroic story of a racehorse underdog resonate with audiences?  Has Hilary Swank overstayed her welcome?  Will the split critical reaction to Clint Eastwood's latest mean all that much?  Will Steve-O's porta john flinging escapade capture the zeitgeist and warm AMPAS members' hearts?
Those are the questions we'll have answered over the next few weeks.
The Contenders section has been slightly tweaked this week.  Each category has been broken out into its own area now.  I may begin adding some commentary to those pages, maybe not.  But at least it's not a giant page you have to scroll through now.  Remember to check these pages throughout the week if you're eager for my latest thoughts, as I will update them any time something strikes me, while the sidebar predictions will only be officially tweaked each Monday.
Finally, remember to keep track of Guy's guesses at his page throughout the season.
[Photos: Zimbio, Paramount Pictures]