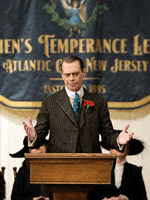 Moving away from the big screen for a moment, I've been looking for a series to come along and take the place of "Deadwood" (RIP), and I think I may have found it.  It's not that HBO's "Boardwalk Empire" is immediately up to the genius level of David Milch's series, but it absolutely showcases the potential for a world as densely populated, one that I look forward to losing myself in week after week.
The Martin Scorsese-directed pilot debuted last night, mostly to critical approval.  It was an event to say the least (fit with a pre-show) and Scorsese's hand behind the camera was welcome on the small screen.  The cinephile's film-loving little touches here and there (an iris-out and in to open and close the episode, a Fatty Arbuckle silent arbitrarily enjoyed by characters in one scene) were unmistakable, and even though he'll be a creative force behind the scenes, I can already tell I'll miss him after this opener.
Steve Buscemi, meanwhile, finally gets a little respect with a considerably beefy leading role and — no surprise to anyone — he navigates it with ease.  The supporting field, from Kelly Macdonald to Michael Stuhlbarg to Paz de la Huerta, are all perfectly suited.  The only weak link for me is Michael Pitt, who doesn't seem to be there yet, but I'll give him some time.  And the opening credits sequence left something to be desired (not that it matters — it doesn't).
Can't wait for next Sunday.  Did you see the pilot?  What did you think?
[Photo: Home Box Office]