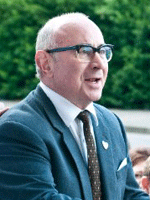 In Nigel Cole's crowd-pleasing "Made in Dagenham," we already know Sally Hawkins is a solid contender in a dense lead actress field for her work as Rita O'Grady, a composite character representing a number of ladies who stood up for equal pay in late-1960s England.  But one of the fringe possibilities for a Best Supporting Actor nomination is Bob Hoskins as Albert Passingham, a supportive union representative.
Hoskins is well used but sparingly so, and in fact his character's sudden exit from the narrative (nothing drastic happens to him, he just kind of goes away) kind of makes you wish he was still around when he's not.  But I wonder if it's enough to really push through here.
Regardless, Hoskins is an actor worth championing and he'll surely have some kind of presence in the awards season.  Recently the UK's Guardian caught up with him in a "getting to know you" sort of session, and the actor had some insightful commentary on feminism and its place in his preparation.
Says Hoskins:
I learned to act watching women. I read Stanislavski, and that seemed a bit obvious. I started looking at the blokes around me, and I realised that men are emotionally crippled. They've got no language for emotion, but women have. Women have an extraordinary clarity. So I thought: if I can get the emotional clarity of women, looking like I do, that might be interesting to watch. I've watched women ever since; I've been a stalker all my life.
Charming piece.  Read the rest here.
[Photo: Sony Pictures Classics]